Date:
2 October 1999 |
Season:
Dublin Fringe Festival 1999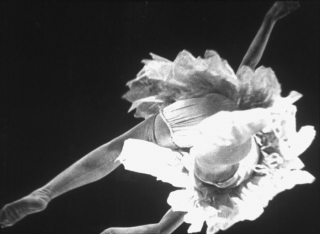 IN DREAMS: SURREALISM AND TRANCE FILMS
Saturday 2 October 1999, at 1:10pm
Dublin Irish Film Centre
René Clair, Entr'acte, France, 1924, 23 min
Entr'acte, one of the first avant-garde films, was originally made as an interlude to a ballet by Erik Satie. Using a variety of innovative camera tricks, René Clair developed new techniques to illustrate the Dada script by artist Francis Picabia. Free of logic, the film depicts an absurd chase after a runaway hearse.
Maya Deren, Meshes of the Afternoon, USA, 1943,18 min
The making of Maya Deren's first film was a key point in the advancement of the personal film. It is one of the earliest 'trance' films, a style which developed from the earlier European Surrealist films of the 1920s and 30s. Deren creates a subconscious world and portrays a dreamer disturbed by a series of irrational incidents.
Kenneth Anger, Fireworks, USA, 1947, 14 min
Anger made this homosexual psychodrama at the age of 17, using old navy film stock, one weekend while his parents were away from home. It follows a wandering adolescent "drawn through the needle's eye" of a nightmare dream.
Sidney Peterson, The Lead Shoes, USA, 1949, 15 min
Amid images distorted by anamorphic lenses, mother tries to rescue her son, who is dead in a diving suit. On the fragmented soundtrack a loose jazz group improvises and mixes up two traditional ballads. Sidney Peterson was at the vanguard of the American avant-garde film wave.
Stan Brakhage, Reflections on Black, USA, 1955, 12 min
Stan Brakhage is regarded by many as the master of experimental cinema. In Reflections on Black, the visions of a blind man depict an erotic and aesthetic quest, which transcends the distinction between fantasy and reality. This angst-ridden drama of relationships in a New York tenement building is an early example of Brakhage's rejection of sound, which he believes interferes with the purity and clarity of vision.
---