Date:
2 October 1999 |
Season:
Dublin Fringe Festival 1999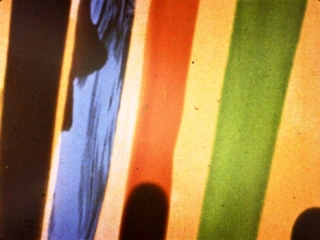 FREEING THE IMAGE: ANIMATION AND ABSTRACTION
Saturday 2 October 1999, at 3pm
Dublin Irish Film Centre
Rhythmus 21, Hans Richter, 1921, 3 min
In his first film, the artist Hans Richter reduced the image to the rectangle, the most basic form, which he uses to subvert the cinematic illusion of depth.
Alexandre Alexeieff & Claire Parker, Night on the Bare Mountain, France, 1934, 6 min
In the 1930s, Alexeieff and Parker developed the pin screen to produce highly original and outstanding animations. 50,000 movable pins were raised and lowered by hand to create light and shade, then photographed in single frame stop motion.
Oskar Fischinger, Komposition in Blau, Germany, 1935, 4 min
Using paper cut-outs and three dimensional objects, Fischinger created one of his most complex films. These inanimate objects march and dance in tight synchronisation to the music of Nicolai.
Norman McLaren, Boogie-Doodle, Canada, 1940, 4 min
A piano boogie by Albert Ammons in interpreted by the prolific Scottish animator Norman McLaren, who made films for both the British GPO Film Unit and the National Film Board of Canada.
Shirley Clarke, Bridges Go Round, USA, 1958, 8 min
Shots of immobile New York bridges are choreographically edited and printed in a way such that they appear to dance. The footage is repeated twice, once with a score by jazz arranger Teo Macero and again with a composition by electronic music pioneers Louis and Bebe Barron (best known for their soundtrack to The Forbidden Planet).
Ian Hugo, Bells of Atlantis, USA, 1952, 10 min
An impressionist cine-poem providing visual accompaniment to "The House of Incest", which is read by its author Anaïs Nin. The magical fusion of image, text and sound vividly depicts the sunken city of the subconscious. Produced with technical assistance from Len Lye and an electronic soundtrack by the Barrons.
Hy Hirsh, Come Closer, USA, 1952, 5 min
The mysterious Hy Hirsh made a handful of freewheeling abstract compositions throughout the 1950s. Films such as Come Closer were the first to combine electronic imagery from oscilloscopes with photographed or animated footage.
Len Lye, A Colour Box, UK, 1935, 4 min
Master animator Len Lye made several innovative short films for John Grierson's GPO Film Unit before moving to the US, slowly withdrawing from film to concentrate on making large-scale kinetic sculptures. A Colour Box is contains vibrant imagery painted directly onto the film and accompanies a lively number by Don Barretto and his Cuban Orchestra.
Peter Kubelka, Schwechater, Austria, 1958, 2 min
Originally commissioned as a beer commercial, Schwechater shows young people drinking in a café. The four brief shots which make up the film are metrically edited in a harsh, repetitive manner according to a stylised set of rules to provide a short but intense visual experience.
Harry Smith, No. 7 (Color Study), USA, 1951, 4 min
Legendary alchemist and anthropologist Harry Smith made a series of wonderful animated works. Early Abstractions: No. 7 consists of optically printed Pythagorean shapes made under the influence of cocaine and ups. (Harry Smith had a lifelong voracious appetite for all kinds of stimulants.) Smith's films work best with jazz and bebop soundtracks, but this print is accompanied by a Beatles song.
James Whitney, Lapis, USA, 1963-66, 9 min
James Whitney, one of the pioneers of computer animation, presents a constantly evolving mandala image as a highly psychedelic meditation tool.
Larry Jordan, Duo Concertantes, USA, 1964, 9 min
Larry Jordan became known for constructing exquisite animations from surreal Victorian engravings. This procedure generates radical juxtapositions of scale, spatial relationships and the associative qualities of objects. Rococo imagery mixes with space age symbols as a mystical lady with an orbital head moves through the carnival of life.
Paul Sharits, Piece Mandala / End War, USA, 1966, 3 min
Paul Sharits produced a series of outstanding 'flicker' films in which rapid changes of colour result in perceptual hallucinations. Piece Mandala / End War is a concise and remarkable example of his stroboscopic style.
Robert Breer, 69, USA, 1968, 5 min
Robert Breer, whose films present continually evolving ideas in a witty, gentle style, is one of the most original and respected animators of the experimental movement. 69 is a kinetic investigation of geometric forms, building visual tension by rapidly alternating images.
Scott Bartlett, Offon, USA, 1968, 9 min
Scott Bartlett was one of the first filmmakers to utilise the newly developed video technology in his work. Offon evolved in an audio-visual jam session and is a virtuoso display of image and sound processing.
Tony & Beverly Conrad, Straight and Narrow, USA, 1970, 10 min
After making The Flicker which consists solely of alternating black and white frames, the composer Tony Conrad collaborated with his wife Beverly on Straight and Narrow. Accompanied by psychotic music from John Cale and Terry Riley, rapidly changing horizontal and vertical lines produce visual hallucinations of colour and complex patterns.
---