Date:
2 October 1999 |
Season:
Dublin Fringe Festival 1999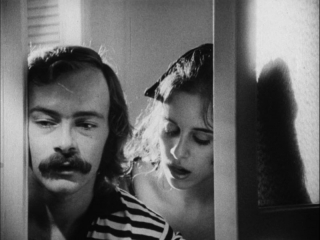 THUNDERCRACK!
Saturday 2 October 1999, at 6:30pm
Dublin Irish Film Centre
Curt McDowell, Thundercrack!, USA, 1975, 158 min
Starring George Kuchar, Marion Eaton and Melinda McDowell
It reads like any classic horror story – a group of teenagers break down in the woods and are forced to spend the stormy night in an eerie, dark house – but from the outset it is clear that this is no ordinary movie, and by the time the sexually active gorilla appears, the audience is clearly in uncharted, perhaps unwanted, territory. This legendary cult film combines George Kuchar's incredible sense of melodrama with sequences of hard-core sexual fantasy to make the underground's only pornographic horror blockbuster. Legend tells that Kuchar wrote the script while high on LSD during a thunderstorm in Nebraska, but with true Kucharian pathos it was actually written during a stay at the YMCA in Oklahoma. The film's director, Curt McDowell, was George Kuchar's first student at the San Francisco Art Institute, where he still teaches to this day. Having already become a legendary figure in the New York underground film movement, known for classics like Hold Me While I'm Naked and Eclipse of the Sun Virgin, Kuchar moved out to California in 1971 and accepted the teaching post offered to him by filmmaker Larry Jordan. In 1973, McDowell starred in Kuchar's epic The Devil's Cleavage, and to return the favour to his favourite student, George wrote, did the lighting and make-up and played a leading role in Thundercrack!. The film was produced by two other students, John and Charles Thomas, partial heirs to the Burger King fortune.
Marion Eaton plays Gert Hammond, sole occupant of the decrepit "Prairie Blossom" mansion house, whose only friend is the bottle since her husband Charlie was devoured by locusts. His remains are kept pickled in the basement, while their sexually deviant son, recently returned from Borneo and suffering from elephantitis of the scrotum, is kept locked in a secret room. On this particular dark and stormy night Gert plays hostess to two sets of strangers – a group of youngsters seek shelter and wind up confronting their own peculiar sexual demons, and later George Kuchar enters as "Bing", a carnival gorilla keeper who has survived a suicidal attempt to crash his truck. Kuchar's overwrought melodramatic dialogue which drives the film makes it quite unlike any other movie in the old dark house genre.
While it gained several good reviews on its release, even in staid publications like Britain's Sight And Sound, Thundercrack! is perhaps just too far out to gain the box office success achieved by similarly trashy features by John Waters, or even Ed Wood. It was a success on the American midnight movie circuit of the late 1970s, but since then has only rarely been seen in cinemas. Only four prints, each of varying lengths, survive and the one presented tonight is the complete 158 minute version. Pushing 3 hours, many people regard the film as an ordeal or endurance test, but sit back and relax (it's one minute shorter than Eyes Wide Shut!) and enjoy a true, unadulterated Cult Movie. McDowell, Kuchar and leading lady Marion Eaton were reunited for the long and troubled production Sparkle's Tavern, a less explicit but equally vulgar and deranged film, which took eight years to complete between 1976 and 1984.
Please Note: Thundercrack! is suitable only for mature adult audiences and contains scenes that some people may find offensive.

---