Date:
3 October 1999 |
Season:
Dublin Fringe Festival 1999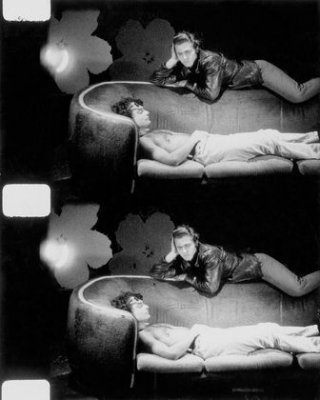 FLAMING CREATURES / COUCH
Sunday 3 October 1999, at 3:00pm
Dublin Irish Film Centre

Jack Smith, Flaming Creatures, USA, 1962-63, 45 min
Starring Mario Montez, Francis Francine and Sheila Bick.
For many people the words "Underground Film" invoke ideas of sexual depravity and cinematic obscenities, but Flaming Creatures and similar films do not use nudity to titillate, rather to express an innocent freedom, showing new ways of uninhibited personal expression. Jack Smith's most celebrated flick, and the court proceedings which followed its release, went some way to liberate cinema, breaking down the moral barriers and censorship so that previously taboo subjects could be presented on film.
Flaming Creatures' unique style is due to Smith's Baghdadian visions and his worship of B-movie actress Maria Montez (reincarnated here by transvestite star Mario Montez). After an unreasonably long credit sequence, we hear the invocation "Ali Baba Comes Today!" and receive our first glimpse at the nonchalant limp penises and fondled breasts the film became inadvertently notorious for. There is a mocking advert for heart shaped indelible lipstick, and an earthquake orgy sequence in which the partially robed Superstars of Cinemaroc pose in a series of outlandish tableaux. Dance segments are punctuated by placid, abstract cutaways of materials and painted backdrops. The soundtrack is a meticulously constructed mix of opera, exotica and seemingly banal popular music such as the Everly Brothers' "Be-Bop-A-Lu-La". The film achieves its timeless and otherworldly washed-out look due to being shot on outdated black and white film stock and remains a unique masterpiece.
Andy Warhol, Couch, USA, 1964, 51 min
Starring Gerard Malanga, Piero Heliczer, Naomi Levine, Gregory Corso, Allen Ginsberg, John Palmer, Baby Jane Holzer, Ivy Nicholson, Ondine, Peter Orlovski, Jack Kerouac, Taylor Mead, Billy Name and others.
Using Warhol's early cinematic style of a fixed camera and long take, Couch is an episodic film depicting a succession of visitors engaged in various types of social and sexual intercourse on the Factory sofa. It is truly voyeuristic, with the camera passively staring at the activities. Each individual three minute roll of film comprises of a single shot filmed at 24 frames per second and projected at 16 or 18 fps, effectively slowing down real time. In presenting homosexuality as just one act in a series of normal sexual practises, Warhol makes a subtle attempt at breaking down erotic taboos.
Warhol's film career evolved in four distinct phases. This first period of silent sequences using minimal composition and a fixed camera view lasted only eighteen months but produced some of his most notorious works such as Sleep, Eat and Empire. Couch came towards the end of this phase, which culminated in the purchase of an Auricon sync sound camera. Using his rapidly growing stable of Factory Superstars to portray scenarios by Theatre of The Absurd veteran Ronald Tavel, Warhol embarked on a series of star vehicles like Vinyl, Hedy and The Life of Juanita Castro featuring Mario Montez, Edie Sedgwick, Gerard Malanga and others. A third phase began with My Hustler and the arrival of Paul Morrissey at the Factory. The films now began to tend towards exploitation and started to become more traditional in narrative form. After the box office success of the innovative double screen epic The Chelsea Girls, the financial potential of filmmaking became apparent. A new wave of superstars including Viva, Ingrid Superstar and Louis Walden took lead roles in Bike Boy, Nude Restaurant and Lonesome Cowboys. Following the assassination attempt on Warhol by Valerie Solanis in 1968, Paul Morrissey took over the Factory Films operation and achieved critical and commercial success with the Flesh, Trash and Heat trilogy starring Joe Dallesandro. Warhol's filmmaking activities wound down in the mid-1970s after he co-produced Dracula and Frankenstein.
Please Note: These films are suitable only for mature adult audiences and contains scenes that some people may find offensive.
---