Date:
3 October 1999 |
Season:
Dublin Fringe Festival 1999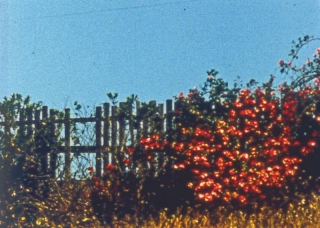 GOING UNDERGROUND: THE NEW AVANT-GARDE
Sunday 3 October 1999, at 1:10 pm
Dublin Irish Film Centre

Bruce Conner, A Movie, USA, 1958, 12 min
Assemblage artist Bruce Conner conceived his first film as a loop forming part of a sculpture. A Movie edits together material from various sources to suggest a continuity where one cannot plausibly exist. Widely regarded as one of the masters of experimental cinema, and a direct influence on TV commercials and pop videos, Conner rarely shoots his own material, preferring to montage found or stock footage.
Robert Nelson, Oh Dem Watermelons, USA, 1965, 12 min
A classic underground romp starring the San Francisco Mime Troop and a dozen watermelons. The fruit is put through every possible use and treatment for comic effect and social comment. Minimalist composer Steve Reich arranged the soundtrack.
Ken Jacobs, Little Stabs at Happiness, USA, 1959-63, 15 min
Little Stabs at Happiness consists of several unedited camera poems which depict a wistful nostalgia for times passed. Two sections feature the legendary filmmaker and performer Jack Smith. Ken Jacobs went on to be an important influence on the Structural movement and since the 1970s has developed amazing 3D projection performances known as the Nervous System.
Joyce Wieland, 1933, Canada, 1967, 5 min
Canadian filmmaker Joyce Wieland was one of the pioneers of the Structural film movement. 1933 is a formal fixed view from a window above a street. Harsh and playful, the film has such a timeless quality it looks as though it could have been made over a hundred years ago.
Michael Snow, Standard Time, Canada, 1967, 8 min
Made as a study for <—>, a film that uses an unrelenting 'back and forth' pan to further investigate space in the style of his continuous zoom in Wavelength. For Standard Time the camera roams freely around a small room before settling on an unexpected subject.
Jonas Mekas, Award Presentation to Andy Warhol, USA, 1964, 12 min
Mekas, the irrepressible force behind the promotion and preservation of experimental film, is also known for his rapid-fire diary films. Award Presentation to Andy Warhol documents Mekas giving Warhol (and Factory superstars Gerard Malanga, Baby Jane Holzer and Ivy Nicholson) the Film Culture Sixth Independent Film Award. In contrast to his regular shooting style, Mekas, assisted here by Gregory Markopoulos, uses one long take to replicate Warhol's own techniques.
George Kuchar, Hold Me While I'm Naked, USA, 1966, 15 min
The Kuchar Brothers' films are no-budget homages to Hollywood, which depict their own mundane lives as glamorous Technicolor dramas. Hold Me While I'm Naked is a hilarious parody of the frustration and loneliness of a Bronx filmmaker who thinks everyone is having a more exciting, sexier time than he.
Anthony Balch, Towers Open Fire, UK, 1963, 10 min
Towers Open Fire is the most accomplished collaboration between Balch and author William Burroughs. Loosely based on the novel "The Nova Express", it uses film to illustrate the cut-up writing process.
Owen Land (formerly known as George Landow), New Improved Institutional Quality, USA, 1976, 10 min
Land's films often use humour and formal technique to question the relationship between the filmmaker, the film and the audience. New Improved Institutional Quality is an absurd IQ test which mocks the illusions of cinema by disregarding senses of scale and rational conception.
Bruce Baillie, All My Life, USA, 1966, 3 min
A single pan across a white picket fence on a clear summer's day is accompanied by the Billie Holliday song. All My Life is a perfect film which condenses a complete statement in a single shot.
---