Date:
6 November 2007 |
Season:
Chris Welsby
|
Tags:
Chris Welsby
,
exhibition
,
Systems of Nature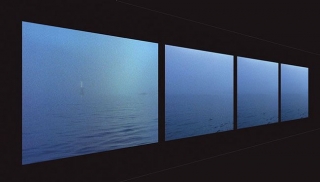 SYSTEMS OF NATURE: RECENT INSTALLATIONS BY CHRIS WELSBY
6 November – 13 December 2007
London Central Saint Martins College Lethaby Gallery

The exhibition Systems of Nature presents two recent installations by Chris Welsby, a British artist who uses moving image technology to explore the representation of nature, the passing of time and the forces of the weather in relation to the filming process.
Welsby became known as one of the key figures of British artists' film through celebrated works such as River Yar (1972, in collaboration with William Raban) and Seven Days (1974). In his early films he applied techniques such as using the power of the wind to control camera movement (Wind Vane, 1972) and to alter shutter speed (Anemometer, 1974). More recently, digital technology has enabled Welsby to create increasingly complex installation work.
In Lost Lake #2 (2005) an image of a lake is projected from above onto a raised surface. At times it appears as a motionless mirror image. As the surface of the lake becomes agitated, ripples move faster and the compression of the digital image pixellates the natural diffraction effect of the water.
"Nature, as represented by the lake, is not seen to be separate from the technology that produces it. The viewer is invited to contemplate a model in which nature and technology are seen to be one and the same thing, inextricably bound together in a playful dance of colour and light." (Chris Welsby)
Disruption of water's natural course is also at the core of the second work, At Sea (2003), in which four large screens present an apparently naturalistic representation of a seascape. Sustained viewing reveals the image to be four different shots arranged to create a projected panorama. The immersive character of this installation evokes a real sense of looking out at sea, but also points to the perceptual limits we encounter when we try and 'see' the enormity of the ocean.
"While half seen objects hover on the threshold of visibility, viewers are invited to consider their own role in the construction of a fiction, a seascape that only exists in the moment of the projection event." (Chris Welsby)
On Thursday 8 November at 6pm, the history and practice of multi-screen projection in artists' film and video will be explored in a discussion between Chris Welsby and William Raban. The event will include a rare presentation of Raban and Welsby's twin-screen film River Yar (1972).
The exhibition is also complemented by Systems of Nature screenings at BFI Southbank from 7-10 November, featuring Chris Welsby's films, an in-conversation event and two programmes of works by contemporary artists which explore similar concerns and techniques.
Chris Welsby was born in Exeter in 1948 and has lived in Canada since 1989, where he is currently a Professor of Fine Art at Simon Fraser University in Vancouver. Systems of Nature is Welsby's first solo exhibition in Britain since 1995.
The exhibition and related events are curated by Steven Ball, Mark Webber and Maxa Zoller for the British Artists' Film and Video Study Collection at Central Saint Martins College of Art and Design.
PROGRAMME NOTES
---