Date:
7 November 2007 |
Season:
Chris Welsby
|
Tags:
Chris Welsby
,
Systems of Nature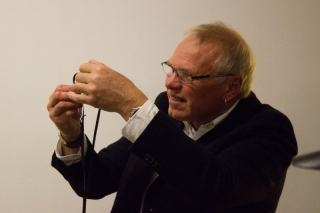 IN CONVERSATION, AT SEA
Wednesday 7 November 2007, at 6:30pm
London BFI Southbank NFT2
Seascapes have a long history in filmmaking and continue to fascinate moving image artists. Chris Welsby has made a number of works that contemplate the ocean and the inability of the camera, the frame and the viewer to appreciate its enormity; including At Sea, which is installed at the Lethaby Gallery, and Drift, which is screened later tonight. This conversation between Chris Welsby, Catherine Elwes (artist, writer and Reader in Moving Image Art, Camberwell College of Arts) and William Fowler (Curator of Artists' Moving Image, BFI National Archive) will reflect on the phenomenon of the moving image seascape from early 'rough seas' films through to contemporary practice.
The exhibition "Systems of Nature" is at the Lethaby Gallery, Central Saint Martins College of Art and Design, Southampton Row, London from 6 November – 13 December 2007.
---