Date:
16 April 2004 |
Season:
Gregory Markopoulos 2004
|
Tags:
Gregory Markopoulos
,
Markopoulos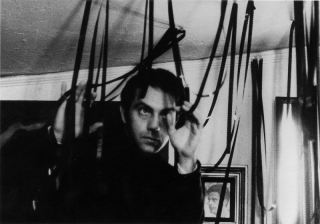 GREGORY J. MARKOPOULOS
16-21 April 2004
London National Film Theatre
GREGORY J. MARKOPOULOS
Towards The Temenos: Myth, Portraiture and Films of Place
Gregory Markopoulos was the archetypal personal filmmaker: an accomplished technician, masterful editor and consummate perfectionist, who created great works of art with a minimum of means. A contemporary of Kenneth Anger, Stan Brakhage and Maya Deren, he was a major figure of the New American Cinema, the post-war movement that developed a new, visionary approach to film.
Markopoulos regarded cinema as "a supreme art in a dark age". His films illuminate literature, portraiture and architecture, shaping a modern mythology that owes more to European traditions of art-making than the Hollywood culture of commercial cinema. As a formal innovator, he developed rapid editing techniques which cut through time and space, shaping new narrative forms through a "fusion of classic montage with a more abstract system".
Such a progressive approach to cinema, and the belief in its ability to convey thought and emotion, was grounded in an appreciation of early masters such as von Stroheim and von Sternberg, and a strong, personal commitment to developing the medium beyond its basic use in the narrative sense. Driven by a purity of vision that transcended cinematic conventions, Markopoulos' sensual and poetic films shimmer with colour and resonate with passion.
This NFT retrospective, centred on key works of the 60s, is the first opportunity in decades to see a selection of Markopoulos' work in the UK, and shows the filmmaker during his most visible and influential period. After moving to Europe in 1967, he withdrew all of his films from distribution, citing frustration with inadequate projection facilities and unappreciative audiences. Many subsequent films were completed but never shown, as Markopoulos conceived of the Temenos as the ideal site for a spectator's quest. In this chosen place, the films may elevate the audience's sense of time while emotionally and physically connecting them to the mythic themes and locations.
He died in 1992, shortly after final editing of the monumental Eniaios, which comprises of 22 cycles totalling over 80 hours of viewing time. This epic work combines radically re-edited versions of all his previous works, and many unseen films, into a single, unified whole. Filmmaker Robert Beavers has established the Temenos Association for the preservation, study and promotion of Markopoulos' total vision, including his films, journals, letters and collected writings. This NFT season precedes the premiere of the first cycles of Eniaios, to be projected outdoors in the Greek countryside in late June.
www.the-temenos.org
LITERATURE AND MYTH: Fri 16 & Sun 18 Apr 2004
Swain and Twice a Man, two interpretations of classic literature that show a unique command of film language.
FILMS OF PLACE: Sat 17 & Mon 19 Apr 2004
Ming Green, Sorrows and Gammelion. Elegant portraits of architecture and interiors.
THE ILLIAC PASSION: Sat 17 & Tue 20 Apr 2004
The Illiac Passion, an underground interpretation of 'Prometheus Unbound', plus Bliss, a study of a small Greek church.
PORTRAITURE: Sun 18 & Wed 21 Apr 2004
Galaxie and Saint Actaeon. Portraits of the artistic community forming a who's who of the 60s art world.
Markopoulos season curated by Mark Webber for NFT and LUX, in collaboration with Temenos Association. Supported by Greece In London 2004 / The Hellenic Foundation for Culture, UK. With thanks to Robert Beavers, Dr Victoria Solomides and Österreichisches Filmmuseum.
---