Date:
18 April 2004 |
Season:
Gregory Markopoulos 2004
|
Tags:
Gregory Markopoulos
,
Markopoulos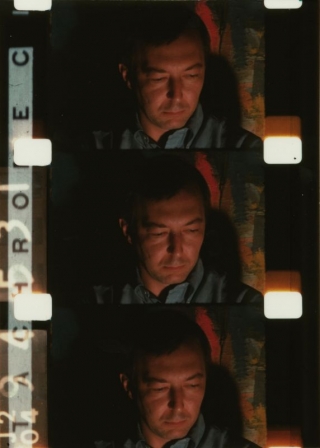 PORTRAITURE
Sunday 18 April 2004, at 6.20pm
London National Film Theatre NFT2
Galaxie consists of thirty-three portraits of important figures from the art world, including painters, poets, critics, filmmakers, and choreographers. Each is shot with a single roll of 16mm film and though edited entirely in-camera, often comprises of many layers of dense superimposition. The subjects were invited to pose in their home, together with objects chosen by them as symbolic extensions of their personality. Saint Actaeon is a rhythmic portrait of historian and aesthete Sir Harold Acton, shot in the gardens of his family villa.
Gregory Markopoulos, Galaxie, USA, 1966, 92 min
Gregory Markopoulos, Saint Actaeon, Italy, 1971, 12 min
The programme will be introduced by Robert Beavers, filmmaker and director of Temenos Inc.
Also Screening: Wednesday 21 April 2004, at 6.20pm, NFT2
PROGRAMME NOTES
---