Date:
16 April 2004 |
Season:
Gregory Markopoulos 2004
|
Tags:
Gregory Markopoulos
,
Markopoulos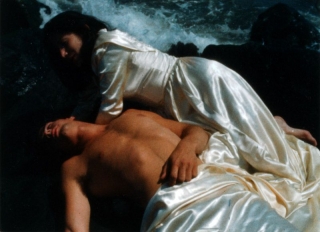 LITERATURE AND MYTH
Friday 16 April 2004, at 6.20pm
London National Film Theatre NFT2
Two contemporary, personal interpretations of classical literature. In Swain, an early psychodrama based on Nathaniel Hawthorne's novel 'Fanshawe', a young man flees from a woman who represents an oppressive sexual identity. Twice A Man is a modern adaptation of the myth of Hippolytus, in which a chaste youth rejects the advances of his mother and is saved from death by a caring physician. This film demonstrates a great stylistic leap as Markopoulos introduces single-frame montage and a more elliptical narrative process.
Gregory Markopoulos, Swain, USA, 1950, 25 min
Gregory Markopoulos, Twice A Man, USA, 1963, 49 min
The programme will be introduced by Robert Beavers, filmmaker and director of Temenos Inc.
Also Screening: Sunday 18 April 2004, at 8.40pm, NFT2
PROGRAMME NOTES
---