Date:
17 April 2004 |
Season:
Gregory Markopoulos 2004
|
Tags:
Gregory Markopoulos
,
Markopoulos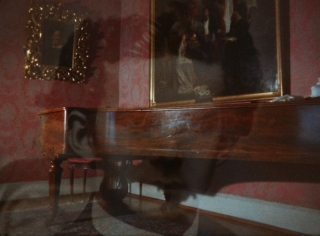 FILMS OF PLACE
Sat 17 April 2004, at 6.20pm
London National Film Theatre NFT2
Markopoulos created many impressions of buildings and places, making in-camera dissolves and superimpositions without any subsequent editing. Ming Green, a portrait of his humble apartment, painted the colour of the title, was made shortly before his departure from New York, while Sorrows was shot at the house in Switzerland built for Wagner by King Ludwig II. Gammelion is a measured and romantic portrayal of an Italian castle, extending seven minutes of photographed 'film phrases' with hundreds of fades in and out.
Gregory Markopoulos, Ming Green, USA, 1966, 7 min
Gregory Markopoulos, Gammelion, Italy, 1968, 54 min
Gregory Markopoulos, Sorrows, Switzerland, 1969, 6 min
The programme will be introduced by Robert Beavers, filmmaker and director of Temenos Inc.
Also Screening: Monday 19 April 2004, at 8.40pm, NFT2
PROGRAMME NOTES
---