Date:
10 September 2004 |
Season:
Expanded Cinema 2004
|
Tags:
Dortmund
,
Expanded Cinema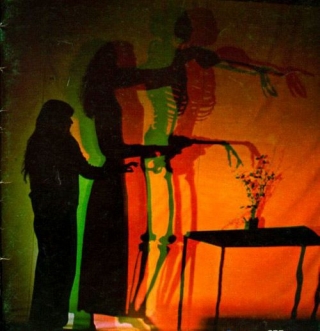 EXPANDED CINEMA: FILM ALS SPEKTAKEL, EREIGNIS UND PERFORMANCE
10 – 26 September 2004
Dortmund PhoenixHalle
From the 10th to the 26th of September hartware medien kunst verein in conjunction with medien_kunst_netz dortmund present the festival Expanded Cinema: Film als Spektakel, Ereignis und Performance (Expanded Cinema: Film as Spectacle, Event and Performance). The programme has been conceived by Mark Webber and is a survey of Expanded Cinema encompassing historical works from the 1960s to the present day. Many of the artist-filmmakers will appear in person and will be available for discussion with the audience after the performances.
»Expanded Cinema« is the term used to describe works that do not conform to the traditional single-screen cinema format. Expanded cinema is not a movement; it is a style of presentation that can be used for films or performances made for a wide variety of aesthetic, personal and political reasons. The only common link between them is that they do not adhere to the »standard« mode of presentation of a single, continuous film projected onto a screen in front of an audience. Projectors are often placed in the room with the audience (not hidden away in a booth at the back) and become part of the overall, participatory event.
The programme stresses the unique, ephemeral and temporal qualities of a finite film or performance that has a beginning, middle and end, and is, by its nature, a shared experience for the assembled audience. There will be no secondary documentation, re-interpretations, installations or static loops, each piece happens once only at a designated time. It presents only film-based, »living works« in their original formats, including multi-screen projections, film performances and expanded cinema events. There will be no use of video or digital technology, but the influence these works have had on the development of new media and gallery installations will be clearly evident.
10-12 September 2004
Participating Artists: Valie Export (Austria), Christian Lebrat (France), Werner Nekes, Jurgen Reble & Thomas Köner (Germany) Malcolm Le Grice, Guy Sherwin (UK), Sandra Gibson & Luis Recoder, Bruce McClure (USA). Plus Films By: Joost Rekveld (Netherlands), Gill Eatherley (UK), Morgan Fisher, Paul Sharits (USA).
17-19 September 2004
Participating Artists: Maria Klonaris & Katerina Thomadaki (Greece/France). Plus Films By: Fred Drummond, Gill Eatherley, Sally Potter, William Raban, James Scott, Chris Welsby (UK), Storm de Hirsch, Claes Oldenburg, Barbara Rubin, Carolee Schneemann, Paul Sharits, Andy Warhol (USA).
24-26 September 2004
Participating Artists: Giovanni Martedi (Italy/France), Anthony McCall (UK), Wilhelm Hein (Germany), William Raban (UK), Tony Conrad (USA). Plus Films By: Birgit Hein (Germany), Lis Rhodes (UK), Beverly Conrad (USA).
Presented by harware medien kunst verein & medien_kunst_netz dortmund
Curator: Mark Webber
Coordination & Press: Katrin Mundt
Technican: Uwe Gorski
Venue: Phoenixhalle, Hichofenstraße / Ecke Rombergstraße, Dortmund-Hörder, Germany.
In cooperation with dortmund-projet, LEG – landesentwicklungsgesellschaft NRW, Kulturbüro Stadt Dortmund.
Read more
---