Date:
24 September 2004 |
Season:
Expanded Cinema 2004
|
Tags:
Dortmund
,
Expanded Cinema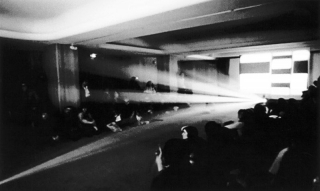 EXPANDED CINEMA: FILM ALS SPEKTAKEL, EREIGNIS UND PERFORMANCE
24 – 26 September 2004 (Third Weekend)
Dortmund PhoenixHalle
The final weekend of the season features expanded cinema works that act on an environmental scale. The special event for 'Museum Night' is Anthony McCall's 6-hour Long Film for Four Projectors (1974), a film which places the spectator within a constantly changing field of 'solid light'. The night before, McCall presents Doubling Back (2003), the first in a new series of works based on a travelling sine-wave form, in a programme that includes Lis Rhodes' Light Music (1975-77) in which the soundtrack is optically created by the image. All of these films take place in a fog or smoke-filled room.
Italian sculptor Giovanni Martedi will perform M.D. et § (1978) for filmstrip, mirror and electric drill, and William Raban and Wilhelm & Birgit Hein present a selection of multi-screen structural films of the mid-70s. The season ends with a live music and film loop performance by legendary American filmmaker and compolser Tony Conrad. Ten Years Alive on the Infinite Plain combines a flicker film environment with a static, minimalist drone.
Participating Artists: Giovanni Martedi (Italy/France), Anthony McCall (UK), Wilhelm Hein (Germany), William Raban (UK), Tony Conrad (USA).
Plus Films By: Birgit Hein (Germany), Lis Rhodes (UK), Beverly Conrad (USA).
---