Date:
10 September 2004 |
Season:
Expanded Cinema 2004
|
Tags:
Dortmund
,
Expanded Cinema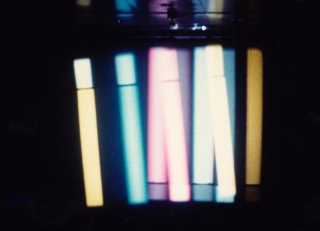 EXPANDED CINEMA: FILM ALS SPEKTAKEL, EREIGNIS UND PERFORMANCE
10 – 12 September 2004 (First Weekend)
Dortmund PhoenixHalle
The opening weekend is characterised by a diverse range of works that investigate the properties and use of colour in film and projected light, often using abstract imagery. The season will commence with an early two-screen film by Werner Nekes projected outside the gallery into the surrounding environment. Filmmaker and theorist Malcolm Le Grice will show a selection of his colour field films for up to eight projectors and Jurgen Reble will perform Alchemie (1992), using a mixture of chemical substances to irreversibly transform the composition of a film loop in real time.
Saturday features three young New York artists that recently participated in the Whitney Biennial. The afternoon begins with collaborative works for Super-8 and 16mm by Luis Recoder & Sandra Gibson present and later Bruce McClure performs with four specially adapted projectors. There will also be multi-screen films by Gill Eatherley, Joost Rekveld and Paul Sharits, and a performance by Christian Lebrat.
On Sunday afternoon, Werner Nekes will give a lecture/demonstration that illustrates pre-cinematic precedents of expanded cinema, followed by a special programme in which the screen is not only illuminated, but activated. Valie Export, Malcolm Le Grice, Werner Nekes and Guy Sherwin will present live performances of seminal film actions from the 60s & 70s in a programme that also features Morgan Fisher's Projection Instructions (1976), which invites the projectionist to get in on the act.
Participating Artists: Valie Export (Austria), Christian Lebrat (France), Werner Nekes, Jurgen Reble & Thomas Köner (Germany) Malcolm Le Grice, Guy Sherwin (UK), Sandra Gibson & Luis Recoder, Bruce McClure (USA).
Plus Films By: Joost Rekveld (Netherlands), Gill Eatherley (UK), Morgan Fisher, Paul Sharits (USA).
---