Date:
21 August 2002 |
Season:
Infinite Projection
|
Tags:
Jonas Mekas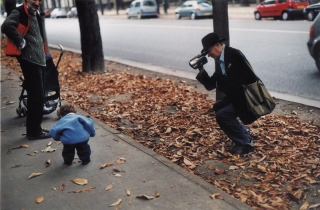 JONAS MEKAS VIDEO SHOW
Wednesday 21 August 2002, at 7:30pm
London The Photographers' Gallery
A rare opportunity to view videotapes by the legendary advocate of avant-garde film. His organisation Anthology Film Archives began to show videotapes by artists as early as 1974, and Mekas himself has been regularly using video since the mid-1980s, amassing footage and creating tapes which are largely unknown or unseen. Jonas Mekas will be in the UK for a retrospective at the Edinburgh Film Festival, and will join us to introduce this screening.
Jonas Mekas, Self-Portrait, 1980, 11 min
Jonas Mekas, Remedy for Melancholy, 1993-97, 28 min
Jonas Mekas, Autobiography of a Man Who Carried his Memory in his Eyes, 2000, 50 min
Jonas Mekas, Cinema is Not 100 Years Old, 1996, 5 min
"I got into video when a New York Sony representative decided to hand for free Sony 8 video cameras to 'famous' New Yorkers in exchange for a few minutes of video they would use then to promote the cameras. So I got one, and gave them my first very, very bad five minutes of video. They also gave one camera to Allen Ginsberg, who took it on his trip to Israel where it was stolen from him; Sony got no footage. Anyway, that was the beginning.
"That was in late 1987. The camera was Video 8. Later I switched to Video Hi-8, and that's where I still am. Because I like to do all my editing at home and at weirdest and unpredictable hours, I cannot yet afford digital video due to the expensive editing equipment. But Hi-8 editing is cheap.
"Jokingly I say, when asked, that I use the video camera as I would use a tape recorder. There is some truth to it. It's opposite to what I do with my Bolex. No single frames. No emphasis on colour. It's more stress on mood, atmosphere, and you can't get mood or atmosphere in single frames. Which means, in my video diaries I record a different aspect of reality than what I do with a Bolex or in my written poetry.
"I have collected by now, that is, by June 1st, 2002, c.750 hours of video material. During the next 12 months or so my intention is to prepare a c.24 hour video volume of my life in New York."
(Jonas Mekas, 1st June 2002)
PROGRAMME NOTES
---