Date:
11 November 2007 |
Season:
Hollis Frampton Magellan
|
Tags:
Hollis Frampton
,
Magellan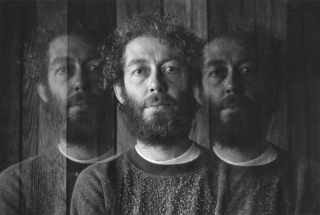 HOLLIS FRAMPTON'S "MAGELLAN"
11—18 November 2007
London National Maritime Museum
A screening, over two consecutive Sundays, of Hollis Frampton's monumental film sequence Magellan, which uses Fernand Magellan's circumnavigatory voyage as a metaphor for a meditation on the history and language of cinema, and the phenomena of perception.
"A series of shaped observations that include portraits, cadaver footage, re-stagings of Lumière films, visits to slaughterhouses, double exposures, a field of peaceful dairy cattle, allusions to Muybridge, electronic imagery, industrial pictures, a state fair – a kind of capsule version of the twentieth century that might have been placed on the Voyager spacecraft as it soared out of the solar system to worlds unknown." —Robert Haller, Anthology Film Archives
In composing his metahistory of cinema, Frampton often refers to other films and filmic modes, quotes liberally from early cinema (specifically the paper print collection of the Library of Congress) and explores countless possibilities for montage and the relationship between sound and image.
Originally intended as a 36-hour sequence in which individual titles would be shown on specific days in a calendar of one year and four days, it was left unfinished when Frampton died in 1984. The surviving 8 hours of material, comprising of almost 30 individual films, will be screened together for the first time in the UK.
The schedule of four two-hour programmes, as structured by Michael Zryd and comprising of almost 30 individual films, is based on the artist's 1978 "Magellan Calendar" and his last work-in-progress screenings at the Whitney Museum of American Art (New York) in January 1980. It was first shown in this form at Anthology Film Archives (New York) in September 2003.
Sunday 11 November 2007
12pm – 2pm The Birth of Magellan (introduced by Michael Zryd)
3pm – 5pm The Straits of Magellan I
Sunday 18 November 2007
12pm – 2pm The Straits of Magellan II
3pm – 5pm The Death of Magellan
Hollis Frampton, one of the key filmmakers of his generation, was also a noted photographer and theorist, whose remarkable writing was published frequently in Artforum and October.
"Frampton is generally understood, in his words, as an artist 'of the modernist persuasion,' not only for his aesthetics, but for his close personal association with such figures as Ezra Pound, Carl Andre, Frank Stella, and Stan Brakhage. Certainly, Frampton conceived of Magellan as a utopian artwork in the monumental tradition of James Joyce and Sergei Eisenstein. In a grant application, he hoped to realize the project as 'the notion of an hypothetically totally inclusive work of film art as epistemological model for the conscious human universe'."
(Michael Zryd, York University, Toronto)
The event at the National Maritime Museum is curated by Mark Webber. With thanks to Michael Zryd, Marion Faller, Wendy Dorsett, Lisa Le Feuvre, Helen Whiteoak, Benjamin Cook, M.M. Serra, Anthology Film Archives and The Film-Makers' Cooperative. Presented in association with LUX.
Hollis Frampton's book "Circles of Confusion", which has been out-of-print for many years, has been published in an expanded edition by MIT Press.
Portrait of Hollis Frampton (directed by H.F.) by Marion Faller. Courtesy Anthology Film Archives. © 1975 Estate of Hollis Frampton.
PROGRAMME NOTES
---