Date:
2 August 2014 |
Season:
Gregory Markopoulos: Film as Film
|
Tags:
Gregory Markopoulos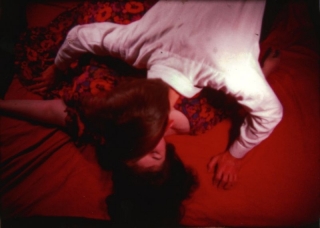 THE ILLIAC PASSION
Saturday 2 August 2014, at 2pm
Guanajuato Teatro Juarez
Gregory J. Markopoulos (1928-92) was one of the most original filmmakers to emerge from the post-war avant-garde. His films, which often translated literary or mythological sources to a contemporary context, are celebrated for their extraordinary creativity, the sensuous use of colour and innovations in cinematic form. In the 1960s, Markopoulos was actively involved in New York's vibrant film community – the same milieu in which landmark works such as Scorpio Rising (Kenneth Anger), Flaming Creatures (Jack Smith) and The Chelsea Girls (Andy Warhol) first enraptured audiences. It was here that Markopoulos made one of his most celebrated films, The Illiac Passion, an extravagant interpretation of 'Prometheus Bound' populated with fantastic characters from the underground scene. Warhol appears as Poseidon, alongside Beverly Grant, Taylor Mead, Jack Smith, and other important figures. The soundtrack of this visionary re-imagining of the classical realm features a fractured reading of Thoreau's translation of Aeschylus and excerpts from Bartók.
Gregory J. Markopoulos, The Illiac Passion, 1964-67, 92 min
This rare screening of The Illiac Passion celebrates the publication of Film as Film: The Collected Writings of Gregory J. Markopoulos (The Visible Press, 2014) and will be introduced by the book's editor Mark Webber.
Also screening: 5 August 2014 at Mexico City Centro de Cultura Digital
PROGRAMME NOTES
---