Date:
13 September 2014 |
Season:
Gregory Markopoulos: Film as Film
|
Tags:
Gregory Markopoulos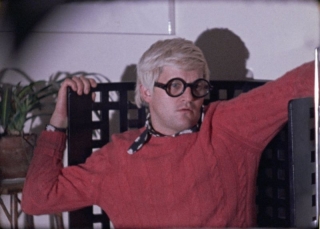 GREGORY J. MARKOPOULOS: FILM AS FILM 4
Saturday 13 September 2014, at 3pm
New York Anthology Film Archives
Inspired by the legend of Faust, Genius is a triple-portrait of three significant art world figures – the British artist David Hockney, the Argentinian surrealist painter Leonor Fini, and the German-born art dealer Daniel-Henry Kahnweiler, an important early supporter of the Cubists. With its measured structure, carefully spacing images between passages of clear or opaque film, Genius forms the central section of the third cycle of Eniaios. This 80-hour long silent film, one of the most remarkable and ambitious projects in the history of cinema, is intended to be shown only at the remote site in Greece chosen by Markopoulos as the ideal setting for his work.
Gregory J. Markopoulos, Genius (from Eniaios III), 1970, 86 min
"In film, in the beautiful, stupid past of the commercial film with its total lack of creative achievement, though stated otherwise by film historians, the absolute Barbarians of our diminishing cultural age, the film construction was dependent on the story in the guise of the necessary message; the necessary message impounded for the benefit, that is the enlightenment and therefore the deliberate enslavement of the filmgoer. However, in my finished work, entitled Genius, the development is along absolute philosophical lines. For instance the three unsuspecting figures who became my characters, represent, in their own milieu, the crises of our times. I refuse to say more. Perhaps, I do not know more! Suffice to say, that even as I was filming, I knew: we look at a face, at the gestures, and we know, if we so wish, the content of the inner being." (Gregory J. Markopoulos, The Redeeming of the Contrary, 1973)
---