Date:
19 September 2014 |
Season:
Gregory Markopoulos: Film as Film
|
Tags:
Gregory Markopoulos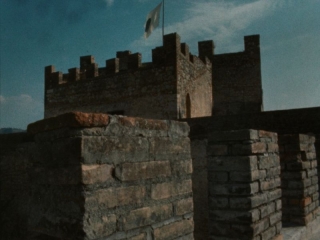 FILM AS FILM: THE CINEMA OF GREGORY MARKOPOULOS 1
Friday 19 September 2014, at 7pm
Cambridge Harvard Film Archive
"To be loved means to be consumed. To love means to radiate with inexhaustible light. To be loved is to pass away, to love is to endure." (Text by Rainer Maria Rilke, recited on the soundtrack of Gammelion.)
Gregory J. Markopoulos, Bliss, 1967, 6 min
An exquisite portrait of the interior of a Byzantine church on the Greek island of Hydra, edited in-camera in the moment of filming.
Gregory J. Markopoulos, Gammelion, 1968, 55 min
Markopoulos' elegant film of the castle of Roccasinibalda in Rieti, Italy, (then owned by patron, publisher and activist Caresse Crosby) employs an intricate system of fades to extend five minutes of footage to an hour of viewing time. This inventive new film form, in which brief images appear amongst measures of black and clear frames, was a crucial step towards Markopoulos' monumental final work Eniaios (1947-91).
Followed by a conversation with P. Adams Sitney, Mark Webber and Robert Beavers.
---