Date:
30 September 2003 |
Season:
Christopher Maclaine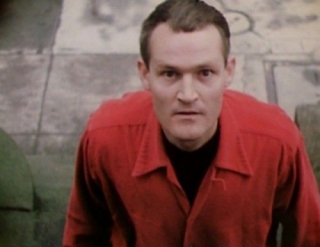 HERE ARE SOME PICTURES, WHAT IS HAPPENING? CHRISTOPHER MACLAINE & THE SAN FRANCISCO UNDERGROUND
30 September—7 October 2003
London The Other Cinema
The 'beat generation' were born in the depression, raised during World War II and matured in the ominous shadow of the Atomic bomb. Their spontaneous, creative reaction against the mainstream was a primitive howl for freedom. Beaten and downtrodden, beatific and elevated, rhythmic and vital like the beat of the drum.
Christopher Maclaine was active in the early hipster scene of San Francisco's North Beach in the 1940s-1950s, one of the authentic characters at the very emergence of the beat movement. He contributed poetry and prose to small periodicals with his contemporaries Michael McClure, Robert Duncan, Kenneth Patchen and Philip Lamantia, and read at late night rap sessions in coffee bars and jazz clubs. His introduction to avant-garde world came through exposure to the important "Art in Cinema" series at San Francisco Museum of Art, and personal connections with pioneer filmmakers Jordan Belson, Stan Brakhage, Larry Jordan and Harry Smith.
He was often completely broke, unable to keep jobs, and constantly relying on the generosity of others, whose patience he tested. Maclaine was a heavy user of amphetamines, which ultimately rendered him debilitated, resulting in his internment in hospital and early death. From the late 50s he was addicted to methadrine, and in 1963 he attempted suicide, resulting in a three-month stay in the psychiatric ward of SF General Hospital. He died in 1975, having spent his last six years in a completely incapacitated state in a convalescent home.
And now, for the first time in Europe, LUX proudly present these newly restored prints of the complete films of Christopher MacLaine, including his 1953 masterpiece The End. These two screenings at The OTHER Cinema are a unique opportunity to discover a long forgotten visionary filmmaker, together with other documents and masterpieces from the San Francisco beatnik underground, including films by Kenneth Anger and Stan Brakhage.
CHRISTOPHER MACLAINE
---