Date:
7 October 2003 |
Season:
Christopher Maclaine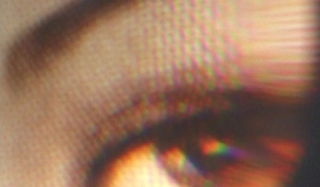 TO RE-EDIT THE WORLD
Tuesday 7 October 2003, at 7pm
London The Other Cinema
A chance encounter with Loreon Vigné, at the Temple of Isis in California, started David Sherman on a mysterious journey through the outer reaches of 50s & 60s bohemia. Loreon's memories, and the films of her deceased husband Dion, told of their orbit around an artistic circle that included Kenneth Anger, Jordan Belson, Christopher Maclaine and the Whitney Brothers, and intersections with the occult (Bobby Beausoleil, Anton LaVey). This loose video documentary includes evocative footage and audio recordings of the era. Screening with classic films of that period, including Kenneth Anger's Inauguration of the Pleasure Dome, Stan Brakhage's Desistfilm and Moods in Motion, a newly discovered abstract film with soundtrack by Christopher Maclaine.
David Sherman, To Re-Edit the World, 2003, colour, sound, 32 min
Ettillie Wallace, Moods in Motion, c.1950s, colour, sound, 5 min
Stan Brakhage, Desistfilm, 1954, b/w, sound, 7 min
Kenneth Anger, Inauguration of the Pleasure Dome, 1954/66, colour, sound, 38 min
---