Date:
29 April 2003 |
Season:
Miscellaneous
|
Tags:
Stan Brakhage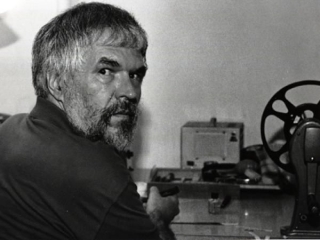 A SNAIL'S TRAIL IN THE MOONLIGHT: STAN BRAKHAGE 1933-2003
Tuesday 29 April 2003, at 7pm
London The Other Cinema
Memorial screening and fundraiser organised by LUX and the Other Cinema, London
An evening of screenings and talk to celebrate the life and work of one of the founding fathers of the modern avant-garde film. Over the course of 50 years and 400 plus films he mapped out a highly personal and passionate alternative history of motion pictures which looms large in the history of American post-war modernism. It is impossible to express all aspects of his work in one screening so instead we aim to present a small sample of works that were important to him, by himself and friends, as well as rare interviews and home movies. A celebration of his life and his remarkable creativity.
Stan Brakhage, Songs 4–7, 1966, 8mm, 10 min
Stan Brakhage, The Dante Quartet, 1987, 8 min
Stan Brakhage & Phil Solomon, Concrescence, 1996, 3 min
Stan Brakhage, Yggdrasill: Whose Roots Are Stars In The Human Mind, 1997, 17 min
Marie Menken, Notebook, 1962-63, 10 min
Bruce Baillie, Rolls, 1967-70, 7 min
Mary Beth Reed, Moonstreams, 2000, 10 min
Courtney Hoskins, Gossamer Conglomerates, 2001, 5 min
Stan Brakhage, Mothlight, 1963, 4 min
Ken & Nisi Jacobs, Keeping an Eye on Stan, 2003, 8 min (excerpt)
Pip Chodorov, A Visit to Stan Brakhage, 2003, 15 min
Colin Still, Brakhage on Brakhage, 1996/2002, 9 min
Phil Solomon, Stan Editing "Panels for the Walls of Heaven", 2003, 7 min (excerpt)
There will also be selections from audiotapes made by Stan Brakhage for his friends and acquaintances, including the poetry of James Thompson BV and music by Charles Ives and Erik Satie. Speakers will include Pip Chodorov and Al Rees.
PROGRAMME NOTES
---