Date:
15 November 2003 |
Season:
Miscellaneous
|
Tags:
Stan Brakhage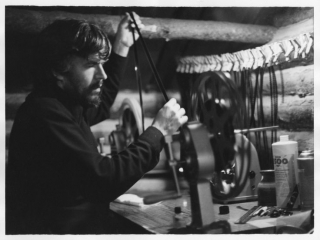 A SNAIL'S TRAIL IN THE MTRIBUTE TO STAN BRAKHAGE
Saturday 15 November 2003, at 2:45pm
Bristol Watershed
A LUX event for Brief Encounters
"Imagine an eye unruled by man-made laws of perspective, an eye unprejudiced by compositional logic, an eye which does not respond to the name of everything but which must know each object encountered in life through an adventure in perception." —Stan Brakhage, Metaphors on Vision, 1963
Widely regarded as the most original and influential independent filmmaker of his generation, Stan Brakhage was not only a consummate artist, but also a great teacher, a passionate champion of the work of others and a huge fan of mainstream movies. His death in March 2003 brought to an end an abundant flow of imagery that produced over 300 films in five decades. His films were a search for a purity of vision unhindered by conventions of seeing. This fleeting survey of his work, including both photographed and hand-painted films, begins with a portrait of the artist made for French television earlier this year.
The curator of this event, Mark Webber will introduce this screening. Mark Webber is an independent programmer of avant-garde film and video, and is Project Manager at LUX.
Pip Chodorov, A Visit to Stan Brakhage, France, 2003, 15 min
This short documentary, commissioned by ARTE and shot in January 2003, provides an invaluable introduction to Brakhage's work and personality.
Stan Brakhage, Autumnal, US, 1993, 5 min
In the 1990s, Brakhage concentrated mainly on hand-crafted films, usually painting directly on the filmstrip to manifest his 'hypnagogic vision'.
Stan Brakhage, Reflections on Black, US, 1955, 12 min
During the post-war period of avant-garde psychodrama, Brakhage developed a singular approach. Reflections on Black is the most complex of his early trance films and one of his few works with sound.
Stan Brakhage, Mothlight, US, 1963, 4 min
Moth wings and vegetation were placed between strips of clear plastic to create a sculptural film without a camera. "What a moth might see from birth to death if black were white and white were black."
Stan Brakhage, Murder Psalm, US, 1981, 17 min
Uncharacteristically for Brakhage this film is composed mostly of found-footage, which is assembled as comment on the monstrous nature of humanity.
Stan Brakhage, Ephemeral Solidity, US, 1993, 5 min
"One of the most elaborately edited of all the hand-painted films – a Haydnesque complexity of thematic variations on a totally visual (i.e. un-musical) theme."
Stan Brakhage, Creation, US, 1979, 16 min
A journey to Alaska inspired this allegorical vision of the formation of the Earth and the emergence of life.
Stan Brakhage, Chinese Series, US, 2003, 2 min
Made by scratching with his fingernails into black 35mm film, using spit to soften the emulsion. He continued to work on this film until his death, and gave instruction that it was then to be considered complete.
---