Date:
5 March 2004 |
Season:
Vasulka Video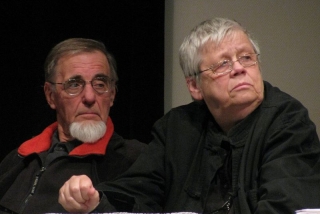 VASULKA VIDEO: PIONEERS OF ELECTRONIC ART
5—7 March 2004
London Candid Arts Trust & University of Westminster

Steina and Woody Vasulka began to use the medium of video as early as 1969, first documenting jazz performances, rock concerts and the underground activities of 'illegitimate culture'. Exploiting the relationship between the electronic signals for both sound and image, they started a didactic exploration of the limitless possibilities of video processing using a range of newly crafted technological tools. Each tape produced was a by-product of the dialogue between the Vasulkas and their machines, as they systematically analysed and deconstructed the fundamental materiality of video through spatial, temporal and sound/image manipulation. The Vasulkas are the creative pathfinders of the electro-magnetic spectrum, whose works – infused with the fizz and crunch of the analogue age – are as mesmerising and astounding today as in their original moment of discovery.
Steina and Woody Vasulka will present three unique events during the weekend, which includes a continuous one-day gallery projection of key works.
STEINA & WOODY VASULKA: PIONEERS OF ELECTRONIC ART
---