Date:
5 March 2004 |
Season:
Vasulka Video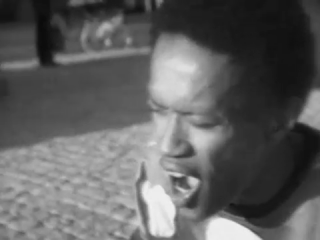 PARTICIPATION
Friday 5 March 2004, at 7pm
London Candid Arts Trust

"Today it's hard to imagine the excitement generated by the introduction of the Sony Portapak in 1969. Though not 'portable' by today's standards, using half-inch reel-to-reel tapes (much like audiotapes, and only recording in black & white); the Portapak revolutionised a generation of artists' understanding of image and time. In comparison to the simplest 16 mm sound sync set-up with crew, the Portapak finally made spontaneous roving sound and image documentation technically feasible and as well as affordable, and the attraction of instantaneous playback or closed circuit room situations proved irresistible in an atmosphere still reeling from the upheavals of the sixties." —Arnold Dreyblatt
Steina & Woody Vasulka, Participation, 1971, b/w, sound, 62 min
Performers : Paul Ambrose, Ian Anderson, Billy Andrews, Gary Bartz, Tally Brown, Larry Chaplan, Don Cherry, Kevin Coe, Jackie Curtis, Candy Darling, Miles Davis, Jack De Johnette, Eric Emersion, Estelle !, Christmas Eve, Michael Enderson, Jimi Hendrix, Stephen Holt, Keith Jarret, Jay Johnson, Aunt Josie, Agosto Machado, Taylor Mead, Buddy Miles, Geri Miller, Mario Montez, Airto Moreira, Paul Morrissey, Ondine, Rita Redd, Al Sayegh, Silva, Ekathrina Sobechanskaya, Steve Stanwick, Steina, Artchie Strips, David Susskind, Tinkerbelle, Jethro Tull, Richard Weinstock, Holly Woodlawn.

PROGRAMME NOTES
---