Date:
4 November 2016 |
Season:
Shoot Shoot Shoot 2016
|
Tags:
Shoot Shoot Shoot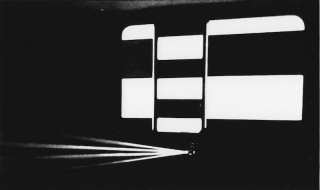 SHOOT SHOOT SHOOT: THE LONDON FILM-MAKERS' CO-OP
Friday 4 November 2016, at 7pm
Cambridge Harvard Film Archive
To celebrate the 50th anniversary of the London Film-Makers' Co-operative, this screening presents a selection of work by some of innovative film artists that gathered there in its formative years: David Crosswaite, Marilyn Halford, Malcolm Le Grice, Mike Leggett, Annabel Nicolson, William Raban, Lis Rhodes and John Smith.
Inspired by the example set by Jonas Mekas and his colleagues in New York, the London Co-op was founded in 1966. In contrast to similar organizations, the LFMC's activity was not limited to distribution – within a few years it was running a regular program in its own cinema and, most notably, had a workshop in which filmmakers could control every stage of the creative process.
The workshop housed a continuous processor and step printer and was an essential, contributory factor in steering the direction of the uncompromising films produced at the LFMC in the 1970s. The tendency was defined by as 'structural/materialist' by one of the group's leading polemicists, Peter Gidal, alluding to what was then the dominant mode in avant-garde cinema but adding a qualification that suggests both Marxist philosophy and the physical presence of the medium that was foregrounded in British filmmaking.
A second, and equally significant form of practice was expanded cinema, which made creative use of the mechanics of projection in the presentation of multi-screen films and performance works. Light Music by Lis Rhodes is exemplary in this regard. Two projectors face each other across the room, creating an environment in which the audience is participant. Its abstract imagery (an ever-changing array of horizontal lines composed as a musical score) is printed across the frame and optical soundtrack area of a 16mm film print, enabling it to be both seen and heard.
The program will be introduced by Mark Webber, author of Shoot Shoot Shoot: The First Decade of the London Film-Makers' Co-operative 1966-76 (LUX, October 2016) and co-editor of Flare Out: Aesthetics 1966–2016, a collection of essays by Peter Gidal issued by The Visible Press in April 2016.
Annabel Nicolson, Frames, 1973, 18fps, color, silent, 8 min
Marilyn Halford, Footsteps, 1975, b/w, sound, 7 min
Mike Leggett, Shepherd's Bush, 1971, b/w, sound, 15 min
David Crosswaite, Film No. 1, 1971, color, sound, 10 min
John Smith, Associations, 1975, color, sound, 7 min
William Raban, Broadwalk, 1972, color, sound, 12 min
Malcolm Le Grice, Reign of the Vampire, 1970, b/w, sound, 16 min
Lis Rhodes, Light Music, 1975, 2 screen, b/w, sound, 20 min
Following the screening in the HFA Cinematheque, the special presentation of Lis Rhodes' Light Music will take place in the undercroft of the Le Corbusier designed Carpenter Center.
PROGRAMME NOTES
---