Date:
13 October 2016 |
Season:
Shoot Shoot Shoot 2016
|
Tags:
Shoot Shoot Shoot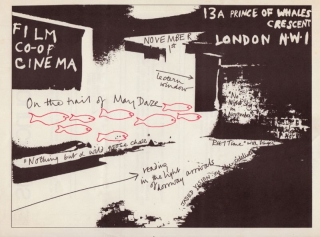 SOFT FLOOR, HARD FILM: CELEBRATING 50 YEARS OF THE LONDON FILM-MAKERS' CO-OP
Thursday October 13 2016, at 7pm
London ICA Theatre
To mark the 50th anniversary, to the day, since the founding of the London Film-makers' Co-operative (LFMC), LUX launches the new publication Shoot Shoot Shoot: The First Decade of the London Film-Makers' Co-operative 1966-76, edited by Mark Webber.
Organised in conjunction with Frieze Video and the ICA's Artists' Film Club, the evening will feature a newly commissioned short film about the LFMC, produced by Frieze in collaboration with artist and writer Matthew Noel-Todd, who will also chair a discussion with Mark Webber, Malcolm Le Grice and Lis Rhodes on the organisation's early ideals and ongoing legacy. The panel will be followed by a special presentation of Lis Rhodes' seminal expanded cinema piece Light Music (1975-77).
The LFMC was established on 13 October 1966. A telegram published in the first issue of the Co-op's magazine Cinim declared:
"LONDON FILM-MAKERS COOP ABOUT TO BE LEGALLY ESTABLISHED STOP PURPOSE TO SHOOT SHOOT SHOOT SHOOT SHOOT STOP NEVER STOP NO BREAD NO PLACE TO LAY OUR HEADS NO MATTER JUST MIND IF YOU WANT TO MAKE MONEY STOP IF YOU LIKE BRYAN FORBES STOP IF YOU READ SIGHT AND SOUND STOP IF YOU WANT TO MAKE FILMS I MEAN FILMS COME ALL YOU NEEDS IS EYES IN THE BEGINNING STOP GEN FROM 94 CHARING CROSS ROAD W.C.2 PARTURITION FINISHED SCREAMS BEGIN STOP"
The 1960s and 1970s were a defining period for artists' film and video, and the LFMC was one of its major international centres as an artist-led organisation that pioneered the moving image as an art-form across the UK. Shoot Shoot Shoot: The First Decade of the London Film-Makers' Co-operative 1966-76 documents its beginnings, tracing its development from within London's counterculture towards establishing its own identity within premises that uniquely incorporated a distribution office, cinema space and film workshop.
---