Date:
22 January 2013 |
Season:
Anthology Film Archives
,
Jonas Mekas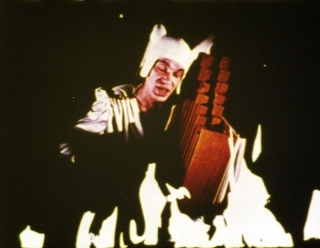 ANTHOLOGY FILM ARCHIVES AND ESSENTIAL CINEMA PROGRAMME 3
Tuesday 22 January 2013, at 6:20pm
London BFI Southbank NFT2
Rather than using film as a way to tell stories, artists frequently explore the fundamental qualities of the medium and its potential for structuring events in time. Paul Sharits and Tony Conrad exploit the flicker effect in their psychedelic films. 69 is a kinetic display of single-frame animation, whilst Contrathemis recalls the absolute cinema of 1920s. Owen Land uses humour to undermine the rigor of later structural filmmakers.
Dwinell Grant, Composition 2: Contrathemis, 1941, 5 min
Robert Breer, 69, 1968, 4 min
Beverly & Tony Conrad, Straight and Narrow, 1970, 10 min
Paul Sharits, Apparent Motion, 1975, 30 min
Owen Land (formerly known as George Landow), Wide Angle Saxon, 1975, 22 min
---