Date:
2 November 2011 |
Season:
Plenty
|
Tags:
Peter Kubelka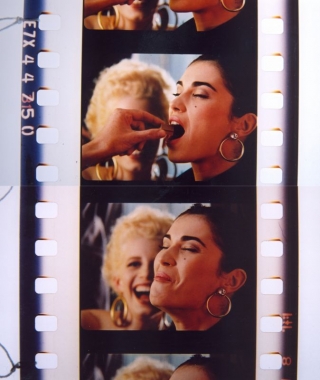 PLENTY 12: DICHTUNG UND WAHRHEIT
Tuesday 2 November 2011, at 7pm
London E:vent Gallery
The screening series PLENTY proposes a new way of looking at artists' films by showing only a single work, regardless of its duration. Each film is given the freedom to unfold on its own terms, and the viewer is given the time and space to consider it.
DICHTUNG UND WAHRHEIT (POETRY AND TRUTH)
Peter Kubelka, Austria, 2003, 16mm, colour, silent, 13 min
In cinema, as in anthropological study, the ready-made reveal ssome of the fundamental poetry and truth of our lives. Peter Kubelka unearthed sequences of discarded takes from advertising films and presents them, almost untouched, as documents that unwittingly offer valuable and humorous insights into the human condition.
"Peter Kubelka is the world's greatest filmmaker – which is to say, simply: see his films! … by all means/above all else … et cetera." (Stan Brakhage)
Peter Kubelka (born 1933) is an artist, anthropologist, cook and teacher. Active as a filmmaker over five decades, his total output amounts to some sixty-two minutes of screen time in which he explores the essential qualities of cinema.
PLENTY, a free monthly screening series selected by Mark Webber, forms part of the "Brief Habits" programme curated by Shama Khanna.
---