Date:
27 October 2010 |
Season:
London Film Festival 2010
|
Tags:
London Film Festival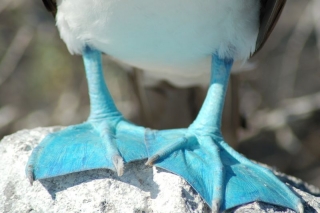 DAVID GATTEN'S JOURNAL AND REMARKS
Wednesday 27 October 2010, at 2:30pm
London Natural History Museum
David Gatten, one of the most accomplished young film artists to emerge in recent years, returns to London to discuss a visit to the Galapagos Islands and screen the film he photographed there. The journey was an opportunity to follow in the footsteps of the naturalist Charles Darwin, whose expedition in the 1830s shaped the theory of evolution. The islands off the west coast of Ecuador have changed little since that time and still sustain a unique array of endemic species. In the absence of predatory mammals, native animals do not fear humans, enabling Gatten to shoot in close proximity to such exotic creatures as giant tortoises and blue-footed boobies. 'The sights I was able to see – and the images I was able to capture – are remarkably similar to the things Darwin saw.' Shuttling between these observations and texts from an early edition of Voyage of the Beagle, the film is structured in accordance with Leonardo's proposal to divide the hour into 3000 equal measures. Along with Shrimp Boat Log (also showing in the Festival), it forms part of a forthcoming cycle titled Continuous Quantities.
David Gatten,Journal and Remarks, USA, 2009, 16mm, colour, silent, 15 min
plus extended discussion
Presented as part of Nature Live, in association with the Natural History Museum.
This free event will take place in the Attenborough Studio, Darwin Centre, Natural History Museum, Cromwell Road, London, SW7 5BD. Nearest Tube: South Kensington. Please arrive early to avoid disappointment.
---