Date:
25 October 2010 |
Season:
London Film Festival 2010
|
Tags:
London Film Festival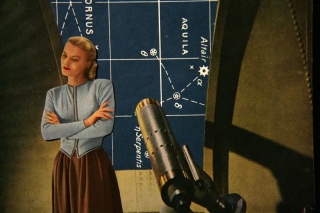 LEWIS KLAHR: ENGRAM SEPALS (MELODRAMAS 1994-2000)
Monday 25 October 2010, at 7pm
London Tate Modern
Collage artist Lewis Klahr introduces Engram Sepals, his celebrated sequence of seven films which traces 'a trajectory of American intoxication'. Appropriating the imagery of pop culture from the aspirational 1940s through the free-loving 1970s, Klahr's cut-out animations draw us into a dreamlike world of intrigue, anxiety and lust. A surreal and atmospheric epic propelled by an evocative soundtrack featuring Frank Sinatra, Morton Feldman, Mercury Rev and The Stooges.
Lewis Klahr, Altair, 1994, 8 min
Lewis Klahr, Engram Sepals, 2000, 6 min
Lewis Klahr, Elsa Kirk, 1999, 5 min
Lewis Klahr, Pony Glass, 1997, 15 min
Lewis Klahr, Govinda, 1999, 23 min
Lewis Klahr, Downs Are Feminine, 1994, 9 min
Lewis Klahr, A Failed Cardigan Maneuver, 1999, 15 min
Lewis Klahr's work has been featured in three Whitney Biennials and is in the collection of the Museum of Modern Art, New York. He is a faculty member at CalArts, received a Guggenheim Fellowship in 1992, and was ranked 4th in the Film Comment avant-garde poll of this decade's most important filmmakers. The Wexner Center, Columbus, recently presented a retrospective of Klahr's films and contributed towards the preparation of a DVD box set.
Curated by Mark Webber and presented in association with The 54th BFI London Film Festival.
Lewis Klahr will introduce a screening of new work at BFI Southbank on Sunday 24 October 2010.
PROGRAMME NOTES
---