Date:
24 October 2010 |
Season:
London Film Festival 2010
|
Tags:
London Film Festival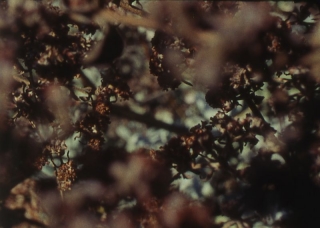 THREE FILMS BY NATHANIEL DORSKY
Sunday 24 October 2010, at 2pm
London BFI Southbank NFT3
Nathaniel Dorsky finds moments of profound beauty among the shadows, reflections and luminosity of city life and the natural world. His open form of filmmaking creates a space for the viewer's contemplation amidst the subtle and astonishing images which radiate from the screen. This programme presents two new films together with a recent preservation of a formative early work.
Nathaniel Dorsky, Compline, USA, 2009, 19 min
"COMPLINE is a night devotion or prayer, the last of the canonical hours, the final act in a cycle. It is the last film I will be able to shoot in Kodachrome; a loving duet with and a fond farewell to this noble emulsion." (ND)
Nathaniel Dorsky, Aubade, USA, 2010, 12 min
"An aubade is a morning song or poem evoking the first rays of the sun at daybreak. In some sense, it is a new beginning for me." (ND)
Nathaniel Dorsky, Hours for Jerome, USA, 1966-70/82, 45 min
"An arrangement of images, energies, and illuminations from daily life. These fragments of light revolve around the four seasons and are very much a part of the youthful energy and poignant joy of my mid-20s. In medieval European Catholicism, a 'Book of Hours' was a series of prayers presented eight times every 24 hours. Each 'hour' had its own qualities, from pre-dawn till very late at night, and these qualities also changed through the progressing seasons of the year." (ND)
Hours for Jerome has been preserved by Pacific Film Archive with support from the National Film Preservation Foundation.
PROGRAMME NOTES
---