Date:
24 October 2010 |
Season:
London Film Festival 2010
|
Tags:
London Film Festival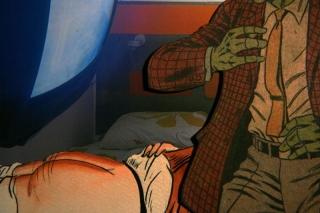 LEWIS KLAHR PRESENTS PROLIX SATORI
Sunday 24 October 2010, at 4pm
London BFI Southbank NFT3
Collage artist Lewis Klahr introduces PROLIX SATORI, an ongoing series which appropriates images from comics, magazines and catalogues. A filmmaker since the 1980s, his signature style is saturated in mid-century Americana but addresses universal experience and is resolutely contemporary. Retaining distinctive handcrafted qualities across a recent shift to digital, Klahr choreographs comic book characters in fractured landscapes of patterns, textures and architectural details. Going beyond abstraction and nostalgic cliché, he builds high melodrama from modest means, conjuring elliptical narratives that evoke complex moods and emotions. Within PROLIX SATORI, a new project of 'couplets' elicits different atmospheres through repetitions of soundtracks or imagery. An emotive mix of classical, easy listening and iconic pop music carries viewers through tales of lost love and wistful reverie. This screening is a chance to be immersed in the idiosyncratic world of a widely acclaimed artist making his first UK appearance.
Lewis Klahr, False Aging, USA, 2008, 15 min
Lewis Klahr, Nimbus Smile, USA, 2009, 8 min
Lewis Klahr, Nimbus Seeds, USA, 2009, 8 min
Lewis Klahr, Cumulonimbus, USA, 2010, 10 min
Lewis Klahr, Sugar Slim Says, USA, 2010, 7 min
Lewis Klahr, Wednesday Morning Two A.M., USA, 2009, 7 min
Lewis Klahr, Lethe, USA, 2009, 23 min
Also Screening: Thursday 21 October 2010, at 4:15pm, NFT3
Lewis Klahr will present a screening of his early films at Tate Modern on Monday 25 October.
PROGRAMME NOTES
---