Date:
23 October 2010 |
Season:
London Film Festival 2010
|
Tags:
London Film Festival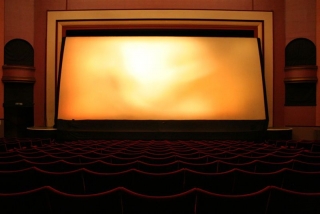 THE FUTURIST
Saturday 23 October 2010, from 12-7pm
London BFI Southbank Studio
Illuminated by the light of the projector, the interior of a large, 1920s picture house is documented from a central position in the stalls. Emily Richardson's films record impressions of environments ranging from natural landscapes to industrial or urban spaces. The Futurist is the first of a series in homage to the cinema experience.
THE FUTURIST
Emily Richardson, UK, 2010, video, colour, sound, 4 min (continuous loop)
The Futurist Cinema, Scarborough, is threatened with closure. This 2000 seat cinema and theatre is a pre-digital relic that needs to be recorded before it is potentially erased from memory. As independent cinemas struggle to find funding to make the switch from 35mm to digital projection systems I felt I wanted to make a series of films in homage to film and the cinema experience. The Futurist is a condensed experience of film viewing, a single 360 degree animated shot of a feature film projection in an empty 1920s cinema, where the sound becomes a cacophony of past projections and the aural experience is closer to that of the projectionist than the audience. (Emily Richardson)
Co-commissioned by Lumen and imove, Yorkshire's Legacy Trust programme. Funded by Legacy Trust UK, Arts Council and Yorkshire Forward. With thanks to Andrew Nesbit and Colin Bainbridge, The Futurist, Scarborough.
Emily Richardson's films explore landscapes and environments to reveal the way that activity, movement and light is inscribed in place. They focus the mind and eye to detail, finding transcendence and emotion in the everyday. 'Time Frames', a book on her work, is published by Stour Valley Arts, and a DVD featuring six of her films is available from LUX.
---