Date:
23 October 2010 |
Season:
London Film Festival 2010
|
Tags:
London Film Festival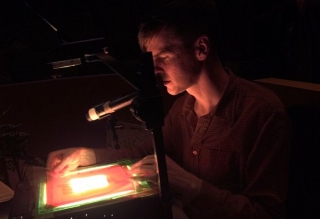 EVERY TIME I SEE YOUR PICTURE I CRY
Saturday 23 October 2010, at 7pm
London BFI Southbank NFT3
EVERY TIME I SEE YOUR PICTURE I CRY: A Live Performance by Daniel Barrow
Daniel Barrow has developed an intimate mode of 'manual animation' using the antiquated technology of an overhead projector. From a position amongst the audience, he recites live narration while manipulating layers of transparencies in continuous motion. Accentuated by interference patterns and sleight-of-hand trickery, Barrow's hand-drawn images contrive an absorbing tale of comic book grotesques. EVERY TIME I SEE YOUR PICTURE I CRY is a bizarre confessional detailing the grand but hopeless scheme of an estranged garbage collector and failed art student. Unloved and rejected by society, the protagonist begins a universal art project in the form of a telephone directory of 'profound and intimate insights' to chronicle the lives of those around him. As he snoops through the windows and waste bins of fellow citizens, his survey is rendered futile by a maniacal killer who follows in his wake, picking off subjects one by one. Invoking introspection, pathos and dark humour, this award winning performance piece is accompanied by an unassuming Beach Boys-inflected score recorded by Amy Linton of The Aislers Set.
Daniel Barrow, Every Time I See Your Picture I Cry, Canada, 2008, 60 min
PROGRAMME NOTES
---