Date:
8 March 2008 |
Season:
Gregory Markopoulos 2008
|
Tags:
Gregory Markopoulos
,
Markopoulos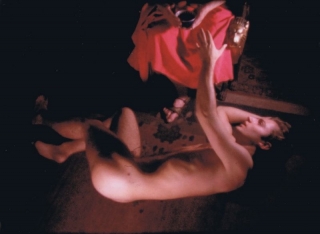 MARKOPOULOS: THE ILLIAC PASSION
Saturday 8 March 2008, at 7pm
London Tate Modern
Throughout his life, Markopoulos remained closely connected to his heritage and ultimately saw the Greek landscape as the ideal setting for viewing his films. THE ILLIAC PASSION, one of his most highly acclaimed films, is a visionary interpretation of 'Prometheus Bound' starring mythical beings from the 1960s underground. The soundtrack of this contemporary re-imagining of the classical realm features a reading of Thoreau's translation of the Aeschylus text and excerpts from Bartok.
Gregory J. Markopoulos, The Illiac Passion, USA, 1967, 92 min

"The Illiac Passion, which features chiaroscuro passages reminiscent of Anger's Inauguration of the Pleasure Dome of 1954, and incorporates 25 characters, is loosely based on Aeschylus' 'Prometheus Bound'. For a viewer seeing this extravagant ode to creation some thirty years after its making, the film's most plangent moments involve Markopoulos' affectionate casting of friends as mythical figures – Andy Warhol's Poseidon pumping on an Exercycle above a sea of plastic, Taylor Mead's Demon leaping, grimacing, and streaming vermilion fringes, and Jack Smith's bohemian Orpheus, spending a quiet afternoon at home with Eurydice." (Kristin M. Jones, Artforum)
The screening will be introduced by Robert Beavers.
---