Date:
20 November 2007 |
Season:
The Wire 25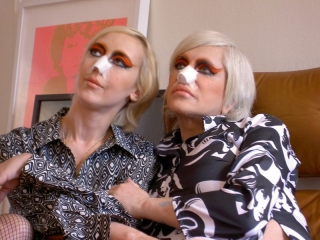 EXTRAORDINARY LIVES
London Roxy Bar and Screen
Tuesday 20 November 2007, at 8pm
Luke Fowler's Bogman Palmjaguar is a portrait of its namesake, a former patient of radical psychologist R.D. Laing who now lives a hermetic life in the Flow Country of the Scottish Highlands. Documenting the environment of the surrounding landscape as much as its human focus, the images are accompanied by Lee Patterson's evocative field recordings. Genesis P-Orridge and Lady Jaye are the subjects of Marie Losier's diary/documentary, which pursues the pandrongynous partners at home, visiting MoMA's Dada exhibition, and on tour with Thee Majesty and Throbbing Gristle.
Luke Fowler, Bogman Palmjaguar, UK, 2007, 30 min
Marie Losier, A Ballad with Genesis P-Orridge and Lady Jaye, France-USA, 2007, 37 min
PROGRAMME NOTES
---