Date:
28 October 2007 |
Season:
London Film Festival 2007
|
Tags:
London Film Festival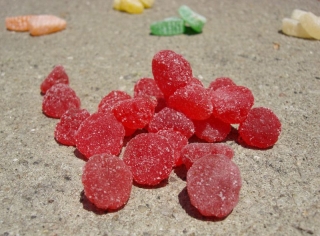 THE ANAGOGIC CHAMBER
Sunday 28 October 2007, at 9pm
London BFI Southbank NFT3
David Gatten, Film for Invisible Ink, Case No: 71: Base-Plus-Fog, USA, 2006, 10 min
'Just barely a whisper. The minimum density, the slightest shape. A series of measurements, an equation for living. The edge of what matters, the contours of an idea. A selection of coordinates for finding one's way back.' (David Gatten)
Greg Pope, Shadow Trap, UK-Norway, 2007, 8 min
Shards of emulsion produced during an auto-destructive film performance have been layered and structured onto clear 35mm. Extending across the soundtrack area, the synaesthetic image creates an intense volley of sound and light.
Samantha Rebello, The Object Which Thinks Us: OBJECT 1, UK, 2007, 7 min
Utilitarian objects, related to health and hygiene, rendered in unconventional ways. This unsettling film questions the way that we relate to our surroundings by exploring the 'radical otherness' of things.
Izabella Pruska-Oldenhof, fugitive l(i)ght, Canada, 2005, 9 min
Adrift on the mists of time, archival images of Loïe Fuller's 'Serpentine Dance' shimmer forth and dissolve in folds of abstract colour.
Emily Wardill, Sick Serena and Dregs and Wreck and Wreck, USA, 2007, 10 min
A farce of fractures: part study of allegorical stained glass windows, part fiction of disparate doppelgangers.
Michael Robinson, Victory over the Sun, USA, 2007, 13 min
Viewed through science fiction or scientific innovation, the future is as far away now as it ever was. Sites of past World's Fairs witness battles between good and evil, the spirit world and the cold hard light of day.
Jessie Stead & David Gatten, Today!, USA, 2007, 11 min
'Touch what you see when you find it or pick it up. Fall off tomorrow's promise, not injured and again. In the woods there is snow, in the water there is sugar, bodies are made of salt and (yesterday is unaware).' (Jessie Stead & David Gatten)
Festival guest David Gatten will lead a practical workshop on the use of text in 16mm filmmaking on Thursday 25 October 2007.
PROGRAMME NOTES
---