Date:
28 October 2007 |
Season:
London Film Festival 2007
|
Tags:
London Film Festival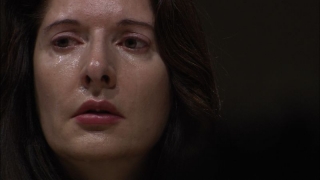 SEVEN EASY PIECES BY MARINA ABRAMOVIC
Sunday 28 October 2007, at 7pm
London BFI Southbank Studio
Babette Mangolte, Seven Easy Pieces by Marina Abramovic, USA, 2007, 93 min
For one week in November 2005, Yugoslavian artist Marina Abramovic gave seven consecutive performances in the rotunda of the Guggenheim Museum in New York City, presenting her own works alongside interpretations of what are now regarded as seminal performance pieces by artists such as Joseph Beuys and Bruce Nauman. Actions that were once performed to select audiences in studios or small galleries were transformed into public spectacle. The artist's own 'Lips of Thomas' is an intense ritual that repeatedly subjects the body to physical pain, being clearly related to her country's war torn past. Other uncompromising works address sexuality (Vito Acconci, 'Seedbed'), confrontation (Valie Export, 'Genital Panic') and suffering (Gina Pane, 'The Conditioning'). The performances, executed with extraordinary discipline and composure, test the thresholds of endurance and determination. Babette Mangolte's mesmerising document of this event condenses the entire series into 90 minutes. The camera, cool and detached, rarely strays from the artists' body, detailing mental and physical tension with the sharp clarity of high definition video. Live art, best experienced in the moment, has rarely been captured with such atmosphere.
Also Screening: Tuesday 30 October 2007, at 7:30pm, BFI Southbank Studio
PROGRAMME NOTES
---