Date:
1 April 2007 |
Season:
London Film Festival 2006
|
Tags:
London Film Festival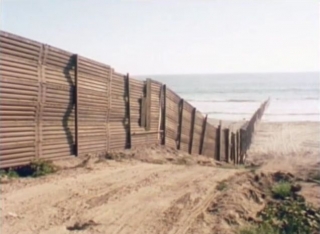 LONDON FILM FESTIVAL EXPERIMENTA TOUR 2007
April–June 2007
UK touring programme

An essential part of The Times BFI London Film Festival each year, Experimenta is the place to discover innovative and challenging cinema. It explores a wide range of personal expression through the work of international film and video makers, from unconventional narrative features to contemporary artists' moving image. The 2007 edition of the annual Experimenta Tour presents some of the highlights from last year's programme.
The Festival's 50th anniversary was an appropriate moment to celebrate the work of Kenneth Anger, one of the most distinctive and distinguished artists in the history of cinema, who made his first film, Fireworks, as early as 1947. For the touring programme, Anger's recent video Mouse Heaven joins four of his classic films in "Cinema as Magick Weapon," a selection that spans six decades of extraordinary and uncompromising creativity. In the documentary portrait Anger Me, the aker tells his own story, enhancing an already legendary mythology with anecdotes on his life and work.
With a theme of adolescent longing and sexual awakening reminiscent of Anger's debut, Wild Tigers I Have Known is the first feature by director Cam Archer. This highly stylised film charts the coming of age of a young gay teenager in a haze of colourful reverie, replete with dreamy visuals and atmospheric music.
"Travelling Light", a programme of 16mm films in which three artists respond to diverse locations, demonstrates that the film medium is not yet defunct, despite widespread migration towards digital and new media. Nick Collins documents a lush valley in the South of France, whilst Ben Rivers ventures to the Scottish Highlands. Bill Brown traces the border between the USA and Mexico, often fixing his camera on the vast expanse of desert. The landscape is infused with political tension, a subject addressed by the undocumented immigrants and border activists that are heard on the soundtrack of this illuminating essay film.
ANGER ME
Ello Gelmini, Anger Me, Canada, 2006, 72 min
CINEMA AS MAGICK WEAPON: THE FILMS OF KENNETH ANGER
Kenneth Anger, Fireworks, USA, 1947, 15 min
Kenneth Anger, Rabbit's Moon, USA-France, 1950-79, 7 min
Kenneth Anger, Scorpio Rising, USA, 1963, 29 min
Kenneth Anger, Mouse Heaven, USA, 2005, 10 min
WILD TIGERS I HAVE KNOWN
Cam Archer, Wild Tigers I Have Known, USA, 2005, 81 min
TRAVELLING LIGHT
Nick Collins, Across The Valley, UK, 2006, 20 min
Ben Rivers, This is My Land, UK, 2006, 8 min
Bill Brown, The Other Side, USA, 2006, 43 min
Selections from these programmes screened at Edinburgh Filmhouse, Glasgow Film Theatre, Manchester Cornerhouse, and London ICA.

---