Date:
10 December 2006 |
Season:
Expanded Cinema 2006
|
Tags:
Expanded Cinema
,
Stuttgart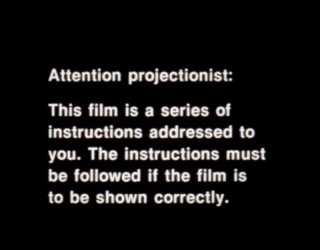 EXPANDED CINEMA: SCREENING
Sunday 10 December 2006, at 7pm
Stuttgart Württembergischer Kunstverein
Malcolm Le Grice, Castle One, UK, 1966, 16mm, b/w, sound, 20 min
One of the earliest expanded works, "The Light Bulb Film" questions the role of the spectator in film viewing experience.
Morgan Fisher, Projection Instructions, USA, 1976, 16mm, b/w, sound, 4 min
Every film must be performed by the projectionist. This one requires extra attention.
Lis Rhodes, Light Music, UK, 1975-77, 2 x 16mm, b/w, sound, 25 min, film environment
A dynamic and interactive sound and light environment in which image and sound are inextricably linked.
---