Date:
29 October 2006 |
Season:
London Film Festival 2006
|
Tags:
London Film Festival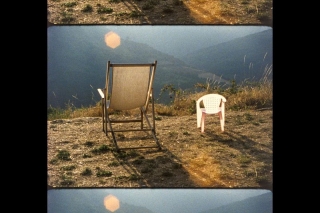 WITHIN YOU, WITHOUT YOU
Sunday 29 October 2006, at 2pm
London National Film Theatre NFT3
Nathaniel Dorsky, Song And Solitude, USA, 2006, 21 min
As a guest of the Festival in 2004, Nathaniel Dorsky gave an inspirational lecture-screening on 'Devotional Cinema'. His new film is a sombre work, which further refines his vision of an intimate, poetic cinema that creates a space for personal reflection. 'Its balance is more toward an expression of inner landscape, or what it feels like to be, rather than an exploration of the external visual world as such.'
Grant Wiedenfeld, Muriel's Song, USA, 2006, 3 min
'A hand-painted, hand-processed film only bent thru the lens of the projector and your pearly-crowned pair. Never before have light and shadow sung so well without a camera.'
Nick Collins, Across The Valley, UK, 2006, 20 min
Across The Valley is a beautifully photographed response to the landscape and environment of the Cévennes Mountains in Southern France. Employing time-lapse and other techniques, the film charts variations in the distant and immediate surroundings over a range of seasons.
Mark Lapore, Kolkata, USA, 2005, 35 min
This luminous study of North Calcutta is one of the last completed films by the American film-maker who died last year. It combines personal and ethnographic elements in an experimental documentary that looks at, and into, another culture with empathy and fascination. 'This film searches the streets for the ebb and flow of humanity and reflects the changing landscape of a city at once medieval and modern.'
PROGRAMME NOTES
---