Date:
29 October 2006 |
Season:
London Film Festival 2006
|
Tags:
London Film Festival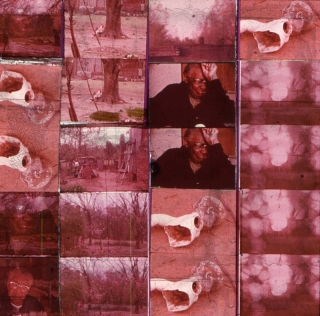 SHINE ON
Sunday 29 October 2006, at 9pm
London National Film Theatre NFT3
Luther Price, Same Day Nice Biscotts, USA, 2005, 6 min
A bleak but touching incantation composed from 13 identical prints of an early 70s documentary on elderly Afro-Americans. Time has taken its toll on the raw material too: now faded and worn, it is steeped in pathos.
Ken Jacobs, Krypton is Doomed, USA, 2005, 34 min
The original Superman radio play from 1940 accompanies the mind-bending 'Nervous Magic Lantern,' a filmless projection system that twists light into a perpetually throbbing mass of impossible depth. Presented by the film-maker as a metaphor for the onset of WWII, the apocalyptic narrative could be read as allegory for the present, a world of instability with the potential of environmental collapse.
Courtney Hoskins, The Counter Girl Trilogy, USA, 2006, 6 min
In an inventive response to the cosmetics industry, Hoskins has created imagery from some unusual materials discovered while working as a sales assistant on a make-up counter.
Dietmar Brehm, Blah Blah Blah, Austria, 2006, 13 min
Hotwiring history, the film-maker excavates his image bank of 16mm footage to reveal an archaeology of clandestine pursuits that hovers between ennui and agitation. Brehm's week beats your year.
Barbara Sternberg, Surfacing, Canada, 2005, 10 min
An exodus of ghostly footsteps pass through the frame beneath layers of scratched emulsion, suggesting the transience of being and a state of emergence beyond the everyday.
Michael Robinson, And We All Shine On, USA, 2006, 7 min
'An ill wind is transmitting through the lonely night, its signals spreading myth and deception along its murky path. Conjuring a vision of a post-apocalyptic paradise, this unworldly broadcast reveals its hidden demons via layered landscapes and karaoke, singing the dangers of mediated spirituality.'
PROGRAMME NOTES
---