Date:
29 October 2006 |
Season:
London Film Festival 2006
|
Tags:
London Film Festival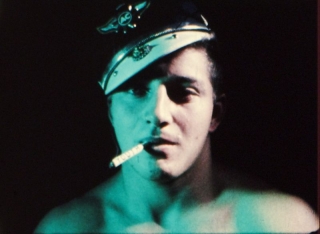 KENNETH ANGER 35MM PRESERVATIONS with KENNETH ANGER IN PERSON
Sunday 29 October 2006, at 4pm
London National Film Theatre NFT1
'Kenneth Anger is a unique film-maker, an artist of exceptional talent." (Martin Scorsese)
Kenneth Anger's iconic films are an extraordinary demonstration of the transformative power of cinema. With support from The Film Foundation, the UCLA Film Archive has recently made glorious new 35mm prints of four of Anger's works. This special screening offers aficionados and the uninitiated an opportunity to see these landmark films as they have never been seen before. We are delighted to welcome Kenneth Anger to the Festival to present this screening.
Kenneth Anger, Fireworks, USA 1947, 15 min
The rarely seen original version, featuring a spoken prologue by the film-maker.
'A dissatisfied dreamer awakes, goes out in the night seeking a 'light' and is drawn through the needle's eye. A dream of a dream, he returns to a bed less empty than before.'
Kenneth Anger, La Lune Des Lapins, USA-France 1950-71, 16 min
The only Anger film shot on 35mm has never been printed on that format until now. This is the longer edit from 1971, synchronized to haunting doo-wop ballads.
'A fable of the unattainable (the Moon) combining elements of Commedia dell'Arte with Japanese myth. A lunar dream utilizing the classic pantomime figure of Pierrot in an encounter with a prankish, enchanted Magick Lantern.'
Kenneth Anger, Scorpio Rising, USA 1963, 29 min
Immensely influential for its use of pop music, Anger's ironic critique of motorcycle gangs invokes Scorpio, the sign that rules machines, sex and death.
'A 'death mirror held up to American culture' – Brando, bikes and black leather; Christ, chains and cocaine. A 'high' view of the myth of the American motorcyclist. The machine as totem from toy to terror. Thanatos in chrome and black leather and bursting jeans.'
Kenneth Anger, Kustom Kar Kommandos, USA 1965, 4 min
A slow and sensuous study of the hot rod craze.
'To the soundtrack of 'Dream Lover' a young man strokes his customized car with a powder puff.'
PROGRAMME NOTES
---