Date:
29 October 2006 |
Season:
London Film Festival 2006
|
Tags:
London Film Festival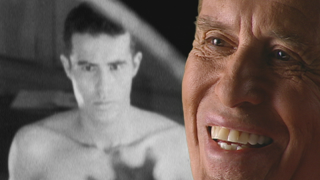 ANGER ME
Sunday 29 October 2006, at 7pm
London National Film Theatre NFT3
Elio Gelmini, Anger Me, Canada, 2006, 72 min
A portrait of Kenneth Anger, legendary pioneer of independent film-making. Raised in Hollywood, a spell as the Changeling Prince in A Midsummer Night's Dream (1935) provided his first taste of the fantasy world of the movies. The nine films Anger made between 1947 and 1980 are shown together as the 'Magick Lantern Cycle', emphasising his belief in cinema as magical weapon. An authority on Aleister Crowley, his dazzling montage invokes myth and ritual, exploring taboo subjects and popular culture with a complex iconography. From the homoerotic fantasy Fireworks to the transcendental Lucifer Rising, his influence reaches beyond the avant-garde and into the mainstream, touching the work of Jarman, Lynch, Scorsese and countless others. Anger's fascination with film history, memorabilia and scandal eventually led to the bestseller Hollywood Babylon, a dark exposé of Tinseltown's seamy side. He inadvertently invented the music video with Scorpio Rising, and his acquaintances ranged from Anaïs Nin and Alfred Kinsey to the Rolling Stones. Anger Me takes the form of an extended monologue, in which this visionary artist talks at length about his extraordinary life and remarkable body of work.
Also Screening: Friday 27 October 2006, at 1:45pm, London NFT2
PROGRAMME NOTES
---