Date:
28 October 2006 |
Season:
London Film Festival 2006
|
Tags:
London Film Festival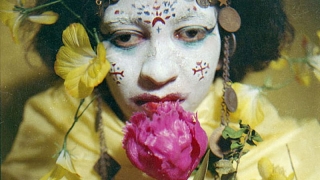 JACK SMITH & THE DESTRUCTION OF ATLANTIS
Saturday 28 October 2006, at 9pm
London National Film Theatre NFT3
'The only person I would ever copy. He makes the best movies.' (Andy Warhol)
Mary Jordan, Jack Smith & The Destruction of Atlantis, USA, 2006, 96 min
Diving headlong into the exotic world of Jack Smith, this is a ravishing celebration of a seminal figure of contemporary art, experimental theatre, fashion, film and photography. A devotee of 'moldy glamour', Smith was shooting fanciful tableau vivants in 1957, later naming his ensemble the 'Superstars of Cinemaroc' way before Warhol had a Silver Factory. His ethereal masterpiece Flaming Creatures is an epic fantasy, featuring blonde vampires and bohemians cavorting amid a tangle of naked bodies. Fêted by Fellini, but denounced by Playboy for 'defiling at once both sex and cinema', the film was became a totem in the battle against censorship. Dismayed and resentful, Smith reacted to this unwanted attention by never completing another film. To become a product was to be embalmed. Returning to the ephemeral medium of performance, he appeared amongst piles of meticulously arranged garbage with Yolanda, a toy penguin with jewel-encrusted brassiere. Utterly opposed to the concept of rented accommodation, Smith railed against 'landlordism', transforming his dilapidated apartment into an homage to Babylonian architecture. This documentary opens up Ali Baba's cave, mixing commentary from friends and enemies with the glistening treasures of Smith's own creation. An abundance of rare photographs, footage and audio bear testament to his uniquely baroque vision.
Also Screening: Thursday 26 October 2006, at 1:15pm, London NFT2
PROGRAMME NOTES
---