Date:
28 October 2006 |
Season:
London Film Festival 2006
|
Tags:
London Film Festival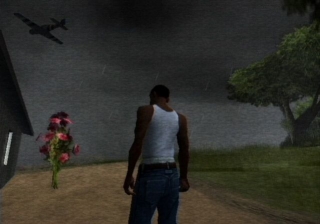 GAMES PEOPLE PLAY
Saturday 28 October 2006, at 2pm
London National Film Theatre NFT3
Miranda Pennell, You Made Me Love You, UK, 2005, 4 min
'Twenty-one dancers are held by your gaze. Losing contact can be traumatic.'
Shannon Plumb, Olympics 2005 Track and Field, USA, 2005, 18 min
From the opening ceremony to awarding the medals, Plumb plays all the characters in this burlesque of the trials and triumphs of the summer games. Rooted in silent comedy, its homespun style references equal parts Keaton and Riefenstahl, and is the vehicle for a series of witty observations.
Victor Alimpiev, Sweet Nightingale, Russia, 2005, 7 min
In a theatre, a crowd perform a series of choreographed gestures facing the stage. Left unexplained, this mysterious ceremony appears more symbolic than absurd.
Judith Hopf, Nayascha Sadr Haghighian & Florian Zeyfang, Proprio Aperto, Germany, 2005, 6 min
An off-season stroll through the temporary ruins of the Giardini, home of the national pavilions at the Venice Biennale.
Phil Solomon & Mark Lapore, Untitled (for David Gatten), USA, 2005, 5 min
Made as a 'get well card' for a friend, this uncharacteristic work invokes a sense of absence, and ultimately loss.
Pablo Marin, Blocking, Argentina, 2005, 3 min
By contravening archival guidelines on water damage, the original image is erased from a 'mistreated' filmstrip, to be replaced by an organic explosion of colour.
Matthias Müller & Christophe Girardet, Kristall, Germany, 2006, 15 min
Shards of emotions from Hollywood melodrama are combined in a Chinese box of reflection and refraction. Kristall is a cinematic hall of mirrors, which ruptures and multiplies the anxieties of narcissistic, star-crossed lovers.
Angela Reginato, Contemplando la ciudad, USA, 2005, 4 min
'Perfectly without affect, a girl sings along with a pop tune, transporting herself through space and time to Mexico City circa 1978.'
PROGRAMME NOTES
---