Date:
28 October 2006 |
Season:
London Film Festival 2006
|
Tags:
London Film Festival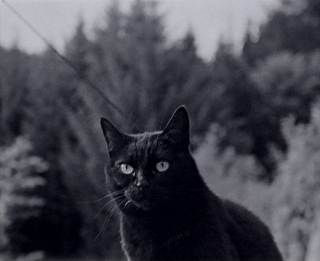 DISTANCE AND DISPLACEMENT
Saturday 28 October 2006, at 4pm
London National Film Theatre NFT3
Ken Jacobs, Let There Be Whistleblowers, USA, 2005, 18 min
Advancing the techniques of his 'Nervous System' performances (seen here in 2000), Jacobs now treats archival film footage with electronic means, shifting his exploration of visual space into the digital domain. All aboard the mystery train for a journey from actuality to abstraction. Steve Reich's 'Drumming' provides added momentum.
Brett Kashmere, Unfinished Passages, Canada, 2005, 17 min
Archival images and a contraflow of texts trace the migration of the artists' grandfather from London to Saskatchewan. 'Using the shadow play of light and darkness as a metaphor for human memory Unfinished Passages reframes his forced immigration/orphan experience through the developing lens of the cinema.'
Ben Rivers, This is My Land, UK, 2006, 8 min
A portrait of Jake Williams, who lives a hermetic lifestyle in a remote house in the woods of Aberdeenshire. Folk film for the new millennium.
Bill Brown, The Other Side, USA, 2006, 43 min
In this rich and revealing essay film, Brown shares his experiences of travelling from Texas to California, recounting a history of the landscape, its inhabitants and those that pass through. The border between Mexico and the USA is crossed by thousands of undocumented persons each year, and hundreds do not survive the journey through the desert to the other side. Incorporating a personal voiceover and interviews with migrant activists, this visually striking film examines the border as a site of aspiration and insecurity.
PROGRAMME NOTES
---