Date:
20 May 2006 |
Season:
Wilhelm Hein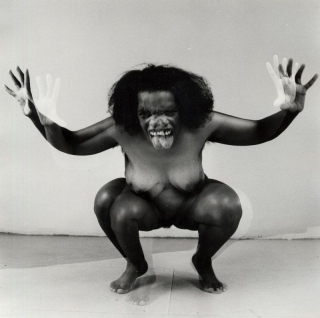 WILHELM HEIN'S SECRET CABINET
Saturday 20 May 2006, at 7pm
London Goethe Institute
Wilhelm Hein's Secret Cabinet—Films From a Private Collection
This screening of films from Wilhelm Hein's personal collection includes rarely seen works by some of the major artists of the last century, including Andy Warhol and Dieter Roth. The afternoon's Materialist theme is extended with the process works of Tony Conrad and Peter Weibel, but here it collides with the German punk scene of the 1980s and the controversial performance art of the Viennese Aktionists Brus and Mühl.
KISS (excerpt)
Andy Warhol, USA, 1963, b/w, silent, 12 min
Three kissing couples from the Andy Warhol serial.
MARIO BANANA#1
Andy Warhol, USA, 1964, colour, silent, 4 min
Underground superstar Mario Montez eats a banana … in his own special way.
4 FILME (DOCKS & DOTS)
Dieter Roth, Germany, 1956-62, b/w & colour, silent, 10 min
German artist Dieter Roth made early direct cinema experiments by physically punching holes into the film material.
FINGERPRINT
Peter Weibel, Austria, 1969, b/w, silent, 1 min
"The film was produced by means of pressure rather than exposure – film as the trace of a touch rather than light."
4-X ATTACK
Tony Conrad, USA, 1973, b/w, silent, 3 min
What remains of raw, unexposed black and white film stock that has been violently battered with a hammer.
CHÉRIE CHÉRIE
Lukas Schmied, Germany, 1993, b/w, sound, 10 min
Boredom, sex and destruction: A film that encapsulates the German punk aesthetic.
UNFINISHED FILM
Kurt Kren, Austria, c.1970, b/w, silent, 3 min
An unknown, unseen, and unfinished work by the legendary Austrian filmmaker.
ZERREISSPROBE
Günther Brus, Austria, 1970, colour, sound, 15 min
This final solo performance by Viennese Aktionist Brus is an extreme test of endurance and suffering.
DAS LEBEN DES SID VICIOUS
Nikolaus Utermöhlen & Max Müller, Germany, 1981, colour, sound, 12 min
Oskar & Angie (aged 3 and 7 years) act out the tragic story of Sid & Nancy, punk's royal couple, in a film by the art group Die Tödliche Doris.
JOYCE IN PREUSSEN
Annette Frick, Germany, 2004, b/w, sound, 5 min
A film reconstruction of Marie-Guillemine Benoist's "Portrait of a Negress" (1900).
SCHEISSKERL
Otto Mühl, Austria, 1969, colour, sound, 12 min
Dedicated to Bataille, this rarely seen film is a hilarious, subversive and explicit performance for camera.
Not suitable for persons under the age of 18.
---