Date:
19 May 2006 |
Season:
Wilhelm Hein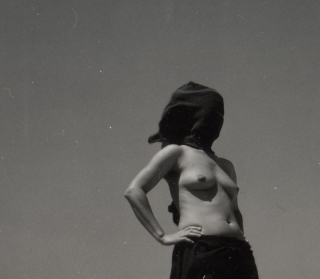 YOU KILLED THE UNDERGROUND FILM
Friday 19 May 2006, at 7:30pm
London The Horse Hospital
"Wilhelm Hein: Perfekt!" begins with a screening (at the Horse Hospital) of his recent epic, You Killed The Underground Film, or The Real Meaning of Kunst Bleibt, Bleibt. An open-ended work, it gathers a decade of footage in a diaristic odyssey that slides from the sublime to the ridiculous, between document and performance.
Hein faces his own history in the climate of political change that has transformed Europe since the 1980s, mixing images with diverse music and spoken word recordings. Jack Smith, Nick Zedd and other underground figures appear in the film, which transcends nostalgia to become a pure and progressive affirmation of independence. Defiant, didactic and polemical, this sprawling opus is a kick in the teeth for convention. (Against all odds, it won the German Critics Prize at last year's European Media Art Festival, Osnabrück.)
Wilhelm Hein, You Killed The Underground Film, or The Real Meaning of Kunst Bleibt, Bleibt Germany, 2002-06, b/w & colour, sound-on-cd, 120 min
"Wilhelm Hein's new film is a fascinating and challenging example of what it means to make politically relevant underground film in an increasingly rented world." (Marc Siegel)
Curated by Mark Webber for Goethe-Institut London.
WILHELM HEIN: PERFEKT! continues at the Goethe Institute (South Kensington) on Saturday 20 May. 4pm: Wilhelm Hein & Malcolm Le Grice screening and informal discussion on Materialist filmmaking in the 60s & 70s. 7:30pm: Wilhelm Hein's Secret Cabinet including films by Andy Warhol, Kurt Kren, Dieter Roth, Tony Conrad, Peter Weibel, Viennese Aktionists Gunther Brus and Otto Muehl, and from the German underground: Annette Frick, Die Tödliche Doris and Lukas Schmied.
PROGRAMME NOTES
---